More pupils start play-based foundation phase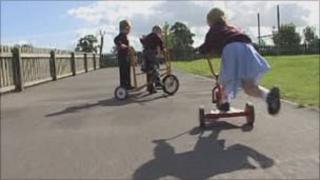 The latest stage of an education policy where children learn through play is being introduced in primary schools across Wales.
Five and six-year-olds will follow the assembly government's flagship "foundation phase" from the start of the school year.
The policy has already been introduced for children aged three to five.
The foundation phase, which involves more adults per pupil, was introduced from September 2008.
First Minister Carwyn Jones said the policy had helped to transform early years education in Wales.
"It has brought consistency and continuity to children's education at such an important period in their lives," he said.
"Through the foundation phase we are giving children the chance to learn by taking part in practical activities that are fun and enjoyable.
"They are also gaining first-hand experiences through play and active involvement which enables them to be creative, imaginative and have fun whilst learning.
"The approach we have taken has been ground-breaking, and the enthusiasm and feedback we have received from teachers, support staff, practitioners, parents/carers and, more importantly, children, has been extremely positive and very encouraging."
Education Minister Leighton Andrews added: "The benefits of teaching and learning through the foundation phase are already being seen in schools and settings across Wales.
"But the pay-off of this radical new way of learning will be long term and its impact will be felt for many years to come."
All three to seven-year-olds will follow the foundation phase from September next year when it is fully introduced.
Meanwhile, education inspection body Estyn is making changes to inspections for schools, local authorities and the post-16 sector.
The changes include Estyn now giving four weeks notice instead of three months before inspections.
There will also be four new judgements: Excellent, good, adequate and unsatisfactory.