Footballer Peter Davenport sells art collection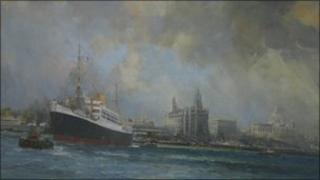 A former Manchester United footballer has sold his art collection - to fund a new interest in railway posters.
Marine paintings owned by Peter Davenport, 49, sold for a total of £13,350 at auction in north Wales.
"I'm thrilled to bits," said Mr Davenport, who had been collecting the pictures for 25 years.
The most valuable painting owned by the former midfielder, who later managed Bangor City and Colwyn Bay, was by Frank Henry Mason and sold for £2,600.
Mr Davenport, who also played for Nottingham Forest, Middlesbrough and Sunderland, said he decided to sell the collection to fund a new passion for collecting early railway carriage prints and rail transport and tourism posters.
He said he was delighted that many of the pictures were bought by private collectors who enjoyed and appreciated Merseyside maritime art.
"I walked out of the saleroom feeling a bit sad to seem them go," he said.
"It was like selling the family silver - but it was satisfying to know the pictures have gone to good homes.
"The other good thing is that practically all of them sold for more than I paid for them."