Images of new homes at 'eyesore' Penarth estate on show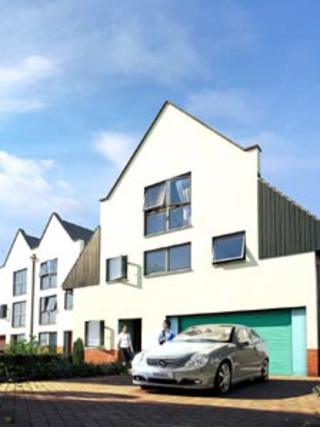 Images have been unveiled of new properties which will replace derelict flats on an "eyesore" housing estate.
Rundown homes at Penarth Heights, known as the Billybanks, are being demolished after a deal between Vale of Glamorgan council and developer Crest Nicholson.
Construction of 377 houses and apartments starts next month, with completion due by 2017.
It was recently ranked Wales' ugliest eyesore and Britain's eighth worst in a magazine survey.
Plans of the development are on display at the town's Oriel Washington Gallery.
They include information about the site, from the initial construction of the Billybanks estate right through to the completion of Penarth Heights, and include a scale model of the new development.
The site had remained derelict for years and had become a target for vandals, thieves and squatters.
However, the estate is in a prime location overlooking Cardiff Bay, the Millennium Stadium and the Bristol Channel.
While most residents were relocated from the 17-acre site years ago, four families refused to leave as plans stalled.
A public inquiry was called over compulsory purchase orders to move the residents, delaying plans that were then further held up by the economic recession.
But Crest Nicholson is now pushing ahead with its redevelopment of the site.
The new homes are described as a mix of contemporary homes with between one and five bedrooms, 20% of them "affordable".
It is hoped the the first residents will be able to move in from next spring.
Sandra Dixon, sales and marketing director for Crest Nicholson, said Penarth Heights was "on one of the most prestigious and picturesque development sites in Wales".
Gordon Kemp, leader of the Vale of Glamorgan council, said the plans on display would give local people the opportunity to see how the site would look when completed.
He said: "I recently visited the site with the secretary of state for Wales and I was pleased to see the site nearly cleared and ready for construction work to start.
"We are looking forward to seeing the first residents move into the development next year."
The Vale of Glamorgan council previously said the agreement with Crest Nicholson would bring a series of improvements to the area including the construction of open spaces, highways, footways and cycleways and investment in local schools.
Plans of the development will be on show at Oriel Washington Gallery, Penarth, between 1600 and 1900 BST on Thursday .