Demolition to start in October at Pontypridd precinct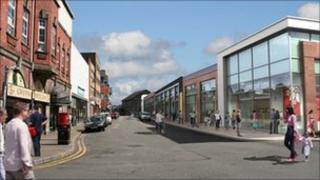 The first demolition phase of an "eyesore" shopping precinct will start in October before remaining work begins next spring, say developers.
They expect a new shopping complex replacing the Taff Vale centre, Pontypridd to open by May or June 2012.
The first major work will be the demolition of a former restaurant at the back of the precinct in October.
Full-scale work will start in March or April after the few remaining tenants have left the precinct.
Andy Crompton, of Riddelltps Limited, agents for developers Taff Vale Limited, said he was pleased with the progress that had been made in a difficult financial climate.
"We're still working in a difficult economy. Rents are being stifled because of the over-supply of property," he said.
But he said terms had been agreed with an anchor tenant for the new development and there was interest from other retailers.
"We're in talks with three or four other retailers and if they come off we could potentially have a scheme that's fully pre-let before we start on site which would be unbelievable in current times," he said.
Developers had become "frustrated" by obstacles in trying to negotiate moving HM Revenue and Customs staff from an office at the site.
Rejuvenating the town
But Mr Crompton said the issues were being ironed out and work was expected to fully start at the site next spring.
Only a couple of retailers remain inside the precinct, but they are due to vacate before the end of September.
The other retailers at the front of the centre, facing Taff Street, are on short-term leases and negotiations are continuing.
The redevelopment of the 1960s-built precinct - considered an eyesore by many residents - is seen as an important part of rejuvenating Pontypridd.
The original Riverside plan, featuring apartments and offices, was scrapped early last year because of the economic situation.
A new scaled-down version was put forward and passed by planners.
The redevelopment of the site has been on the agenda for years and Mr Crompton said he understood residents' frustrations about the length of time it had taken.
But he added: "People will see the demolition at the rear of the precinct in October and will see that we mean business."
A £10.5m scheme was recently announced to regenerate the town centre and help it attract private investment.