Tightrope walker Olivier Roustan 250ft above Newport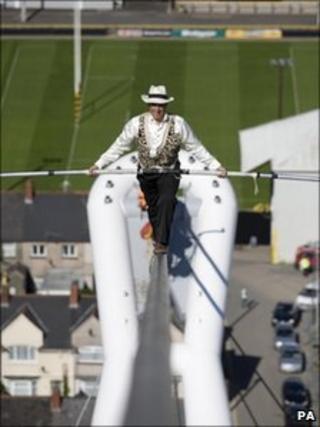 A Frenchman ended the Bank Holiday walking tall after being involved in what was claimed to be the UK's highest wire-walk across Newport's river footbridge.
The stunt by Olivier Roustan, 45, from Toulouse was part of the city's events to mark golf's Ryder Cup in October.
At the highest point he was more than 76m (250ft) above the River Usk, in a distance covering 90m (295ft).
He was at the riverfront's Big Splash event with other circus performers.
One of his biggest challenges was walking a 20 metre incline during the feat, which was watched by hundreds of people.
The aerialist spent two days in Newport in February assessing the safety issues involved in tackling the challenge.
He was helped into position for the attempt by three highly trained industrial climbers, one of whom had flown over from Chamonix especially.
Roustan had previously scaled the Cathedral of Albi near his home city, which is over 500 years old and the largest brick building in the world.
Other previous walks included between the masts of a ship and over burning braziers.