Cardiff fishmonger's oyster opening title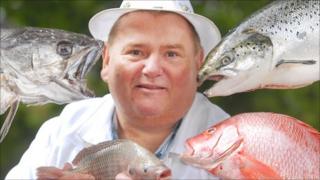 A veteran fishmonger has become the Welsh Oyster Opening Champion, at a final in Cardiff Bay on Monday.
Mike Crates, 54, from Ashton's in Cardiff market, opened 30 native oysters at top speed and also keep his presentation the cleanest to lift the winner's shield.
On Sunday, he was runner-up for the 19th time in 38 years at the British Fish Craft Championships 2010.
He now wins a place in the world oyster event.
"The audience was great, and competing in front of the home crowd was a fantastic buzz," said Mr Crates.
As well as opening the oysters in as fast a time as possible, he was judged on his presentation with marks also deducted if segments of shell remain on the presentation board.
His performance was judged quick and clean, with his oysters finishing up in an orderly display, complete with a splash of lemon.
Mr Crates will now take part in World Oyster Opening Championships in Galway later this month.
The competition was part of a three-day event over August Bank Holiday weekend in Cardiff Bay.
Throughout the festival, fishmongers from all over the UK gave demonstrations on how to fillet salmon, canoe fillet a sea bass ready for stuffing, dress crab and prepare scallops.