Art unites artist Mary Husted and son adopted in 1960s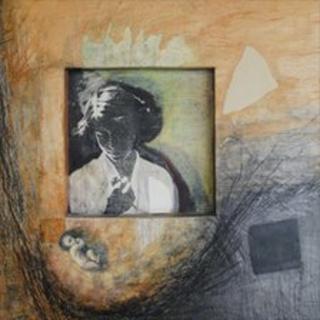 The story of how a teenager gave up her baby son for adoption and was finally reunited with him after almost 45 years is told in a new exhibition.
South Wales-based Mary Husted was just 17 when she became pregnant in the early 1960s and bowed to family pressure to have her baby adopted.
More than 40 years later, her son spotted her painting, showing her loss at giving him up, on the internet.
Now the pair have worked together on her latest show in Cambridge.
Ms Husted said their reunion had been a "wonderful" and "life-changing" journey.
Luke (not his real name) knew his mother's maiden name and traced her after seeing her collage Dreams, Oracles, Icons.
The work which forms part of the New Hall Art Collection in Cambridge University is based on a photograph of Mary taken by her father.
It is a portrait of a teenage girl tenderly holding a bird in her hand while on the outer raised surface a tiny child is held in space, alone and adrift.
The work has hung in Cambridge since 1992 but it was in September 2007 as, strangely, she worked on a Cardiff exhibition of her drawings as him a baby, that Ms Husted received an e-mail from Luke which was to end their enforced separation.
Within two weeks mother and son met up.
Ever since Ms Husted has drawn and drawn her son "as if drawing was the only way to get to know the child I lost".
Since giving up her son, Ms Husted has married twice and has four other children and now lives in Barry, Vale of Glamorgan.
She has a studio in Cardiff Bay and says her art since the mother-and-son reunion has dwelt increasingly on the themes of memory, loss and retrieval.
In the exhibition Hush Don't Tell, what went untold for so long can now be told, she added.
In it there is a statement by the artist taking the audience back to the strait-laced society of the 1960s.
She was a 17-year-old art student when she became pregnant and Luke's father was "a handsome Persian" and her "first great love".
But she bent to family pressure, agreeing to keep her pregnancy secret and have her baby adopted.
"My pregnancy was something shameful and illegitimacy was a serious social stigma," she said. "I was told to go away and live my life, and forget it."
Her latest show comprises about 30 pieces, among them an audio-visual projection called Each and Every Year, made with her son.
It shows Ms Husted's sketches of Luke from the precious 10 days in early 1963 before they were parted alongside those from the present.
The audio-visual effects and soundtrack is composed by Luke, now a successful businessman with a family of his own.
He said he is thrilled to be able to contribute.
Overwhelming experience
"Using my technical knowledge to provide a new medium for Mary to work with, and adding some of my own creative ideas, has been very exciting."
Through their collaboration, Ms Husted said she feels she and her son are "closing the circle and cementing the bond" that held them in their few days together after his birth.
They are now in constant touch, texting and e-mailing and meeting every few weeks despite both leading busy lives.
She said: "I still can't quite believe what's happened and what's still happening - it's a story that's far bigger than me."
She also hopes that the exhibition will at some point come to Wales, the home of her mother where many of her family - including her twin sister - now live.
She added: "It really has been a very overwhelming experience. My son has had tremendous support from his wife and family.
"I have had a lot of support from my husband and other children, It's been very, very emotional."
Hush Don't Tell runs from 29 August to 25 September at Murray Edwards College, Cambridge.