Planet Ice to build Cardiff sports village ice rink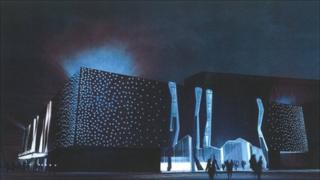 Cardiff council has named leisure firm Planet Ice as the company it wants to build a new ice rink for the city's international sports village.
Work is due to begin early next year, subject to planning, with the ice arena to be completed by February 2012.
Planet Ice, which has an ice arena in Empire Way, Cardiff Bay, will run the rink as well as design and build it.
Cardiff's former rink in the city centre had to be demolished as part of the St David's retail development.
Cardiff council said the local authority, Planet Ice and the city's Cardiff Devils ice hockey team had agreed to work together to help deliver the project.
Cardiff council leader Rodney Berman said it was a "huge step forward".
He said: "This facility is going to be another visually stunning addition to Cardiff's range of world class sporting facilities and another crucial piece of the jigsaw in the development of the Cardiff international sports village.
"The ice rink was originally part of our plans for a larger multi-purpose arena but when it became clear that it was going to take longer to deliver the rink in that way, we took the decision to instead progress a stand-alone facility.
"This was important to ensure we could still fulfil our commitment to the users of the rink that we would deliver a permanent ice arena by 2012."
Development of the plan's rink design is due to start in late September.