Dyfed-Powys Police warn over council tax phone scam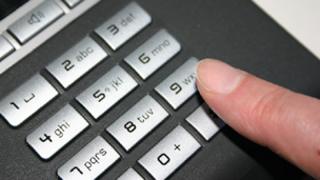 A police force and two councils are warning of a repeated phone scam that targets tax payers, falsely claiming they are eligible for a tax rebate.
Scammers ring householders claiming to be tax or council officials, offering thousands of pounds in tax rebate.
The victims are asked to hand over passports, credit card or bank account details so cash can be "refunded".
Dyfed-Powys Police and Carmarthenshire and Ceredigion councils have advised people not to hand over bank details.
Carmarthenshire council said the scam was happening every couple of months.
Executive board member Cllr Hugh Evans said: "Unfortunately, this scam is recurring and we want people to be on their guard against it.
"No-one from the county council is ringing people offering them a council tax refund.
"As ever, if something seems too good to be true then it usually is."
Ceredigion council said: "The scam involves the caller claiming the council tax payer has a credit balance and that the council wishes to refund it.
"The caller proceeds to ask for the council tax payer's bank account details in order to arrange repayment of the credit balance."
A spokeswoman for Dyfed-Powys Police said: "On other occasions they ask for a one-off administration fee to process the refund.
"Anyone who receives one of these calls should not divulge any of their details, and report them to the police on 101."
Ceredigion council said people should ring its finance department on 01970 617911 to check the accuracy of any calls claiming to be from the department.
Carmarthenshire council said people who receive or are a victim of a scam call Carmarthenshire Direct on 01267 234567.