Carmarthenshire and Conwy higher migration than Cardiff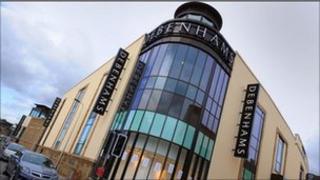 New figures on migration in Wales reveal that Carmarthenshire and Conwy, not Cardiff, are top of the shifting population league.
In 2008-09 the county saw twice the net number of migrants Cardiff did, with 400 new people taking up residence.
Local government data shows Rhondda Cynon Taf had the lowest migration rate.
Carmarthenshire Council leader Meryl Gravell said the boom was down to regeneration.
The figures were published by the Local Government Data Unit Wales and based on data supplied by the Office for National Statistics.
They show that in 2008-09 Carmarthenshire saw an influx double the size of Cardiff, with 5,500 people moving out of the county and 5,900 moving in.
Meanwhile Conwy had 4,500 people moving in and 4,100 moving out.
Although Cardiff had 18,700 people moving in from other parts of Wales and the UK, 18,500 left the city during the same period.
The county with the lowest number of migrants was Rhondda Cynon Taf, where the outflow of migrants exceeded the inflow by 600.
The figures do not show people from Wales emigrating overseas or those who have moved from other countries outside of the UK.
Carmarthenshire Council leader Meryl Gravell said she was not surprised by the figures and believed the level was down to big regeneration projects in the county.
"We're getting a lot of people coming into Carmarthenshire to retire because it seems like a nice, environmentally place to live," she said.
"The county has a lot of leisure facilities like the racecourse, golf courses and the new £74m cinema and shopping development in Carmarthen.
"We have been concentrating on regeneration so we can keep young people and their own families here and our schools and economy can thrive.
"We're also becoming a university town which I expect will bring more young people in."
But she said keeping young people in the area was an important task and one the council was thoroughly committed to.
"We are hoping to help people with social enterprises and European grants so they stay here to set up businesses and work.
"Having people come here to retire is obviously a good thing but it can be a double-edged sword because of the pressure it will put on social care so we need to be aware of it and prepare."
Conwy Council has been asked to comment.