Dyfed-Powys Police chief warns of major cuts impact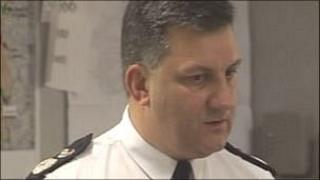 One of Wales' most senior police officers has warned that government spending cuts are the most serious challenge for policing in decades.
Ian Arundale, chief constable of Dyfed-Powys Police, said his force must find savings of £34m between now and 2015, and £13m in each subsequent year.
He said he was not "scaremongering" by saying up to 300 posts were at risk, including bobbies on the beat.
He warned that there was going to be a "significant impact" on the front line.
Mr Arundale said he accepted that cuts had to be made in the Dyfed-Powys force area and hoped to achieve this through natural wastage and voluntary redundancies.
Of the measures he said: "They are huge savings and we want to be honest with the communities and our staff that these could have really significant implications for policing and employment right across the Dyfed-Powys Police area.
"We have been planning for some months expecting government cuts and we fully accept we have to do our part in balancing the budget.
"But we do think there is some unfairness in all forces having to achieve exactly the same level of savings, irrespective of all the good work that has gone on and the savings and efficiencies they have made to date.
"There are cuts that we can make and, as in all organisations, there is more that we can do to try and make ourselves more streamlined and more efficient.
'Difficult time for policing'
"But our assessment is the level and requirements of this cuts programme mean that we're probably going to have to lose some police officers and some police staff."
Mr Arundale said the degree of the cutbacks would "change the nature of many of the services that we currently provide".
He said: "Policing is about whole range of issues, not just responding to crimes, and there may be some areas where we've got to stop delivering the current services that we do.
"It really is going to be a difficult time for policing and, as we currently assess it, we are going to have to lose some police officer posts to balance the budgets, which clearly is the last thing that we want to do and I'm sure it is the last thing the government wants to happen as well.
"There is no scaremongering here; I just want to be honest with my staff and the communities that we have significant problems."
Police officers cannot be made redundant but last month North Wales Police Authority met to discuss cuts which could see hundreds of job losses.
Mark Polin, North Wales Police chief constable, has said he expected around 250 officers to leave through staff turnover but not be replaced.