Clearing worry for A-level pupils in Wales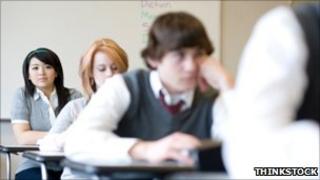 Thousands of students across Wales woke up to A-level day with uncertainty over their future if they failed to get the grades for university.
This year, two Welsh universities have already said they will not take part in the clearing process because their courses are full.
The nine others say they will have fewer places than usual which will increase competition for places.
There was a small fall in the overall A-level pass rate from 2009, to 97.1%.
Both Aberystwyth University and Trinity College Carmarthen have said they will not enter clearing, and other universities across the UK are taking a similar stance, while there are expected to be fewer places available through clearing generally.
Before the results were announced, Katie Dalton, NUS president in Wales, said she had already heard of vastly increased competition for places this year, and had some advice for those who missed out this time.
"We would advise students to use the next 12 months productively. If you're missing out on higher education, don't give up on higher education," she said.
"Look towards getting work experience or volunteering, something that can put you in a good position next year.
"However, we are concerned that poorer students do need to get a job to pay their rent and bills, and those opportunities of unpaid work experience won't necessarily be available for them and will disadvantage them further."
She said the NUS was calling on the government to invest more in education and training.
University admissions service Ucas said 56% of applicants had had their university places confirmed by early Thursday morning but that figure would change throughout the day.
Bethan Stone from Bargoed, Caerphilly county, has just graduated from Swansea University with a first-class degree in law and plans to return this academic year to complete a legal practice course in order to work as a solicitor.
Three years ago, she was one of those who found herself without the necessary grades to get into her university of choice, Cardiff, gaining three Bs rather than three As.
She said: "It was quite nerve-wracking because you want to get the grades to get into the university of your choice but on the day you find out you haven't.
"I'd thought about it beforehand because I only had one choice. I didn't have a second choice to rely on.
"I'd always thought if I didn't get into Cardiff I'd like to go to Swansea. I had the numbers ready so I came home, rang Swansea and had all my details ready and they just said there and then, yes, you've got a place.
"So I was quite lucky in that sense."
She feels sorry for students now who are facing a reduced number of places.
"I think it's unfair really because you hear all the time about more people applying to go to uni and there's less clearing numbers and so on," she said.
"They're not being given a chance to achieve their full potential and go to university. For me it worked out really well. I feel really lucky that I got the chance."
Lisa Bowen, admissions manager for the University of Wales Institute, Cardiff, said she was expecting clearing to be busier than in other years.
She explained: "There are more unplaced applicants within the system. I think it's going to be more competitive than in previous years."
The UCAS helpline number for advice on clearing is 0871 468 0468.