World class races for swimmer, 80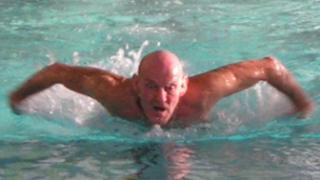 Veteran swimmer Baz Owen has taken part in the World Masters Championships in Sweden - at the age of 80.
The lifelong swimmer took part in the backstroke, butterfly and individual medley, in the 80-84 years category.
Mr Owen, from Llanfairfechan, Conwy, has been swimming for over 70 years and runs a class in swimming and diving at the Arfon Masters Swimming Club.
The former salesman still trains four times a week.
He said the competition was "always fierce" at the world championships, but said the star of the show was a 96-year-old French swimmer from Dijon who won the 100m freestyle in his class.
Mr Owen said his preferred stroke had been the butterfly in his younger days but he was not quite so comfortable with it now.
He was also a keen diver although he says he does not do much now.
His swimming career began when he was eight years old, in the local quarry, and the love for the sport has never left him.
He explained: "You get such a feeling of wellbeing and as it's weightless, it's good for your joints.
"It seems natural to swim.
"You need to keep yourself fit - we're only here once as far as we know and it makes sense to make it last as long as possible.
"I do a length underwater to warm up, which is good for the lungs, when I start training. I don't train as much now as I used to though."
One problem Mr Owen has prior to competing in events like the World Masters is that there is no 50m pool in his area.
"When you get out into these 50-metre pools, you're a little bit lost," he said.
"Before a main event I always drive down to Swansea to the Welsh National Pool, which is 50 metres, to get some practice."
It is not just swimming which has kept Mr Owen in such good shape.
"I was a champion boxer and did judo, until about 10 years ago," he said.
Christine Slater, secretary of Arfon Masters, said Mr Owen was a lovely diver and a very keen member of the club.
"I think he's the second oldest member, but he's the oldest one that regularly trains and the oldest one that competes," she said.
"I can't see him giving up."