Deptford Pink's Flintshire site sees 14-fold increase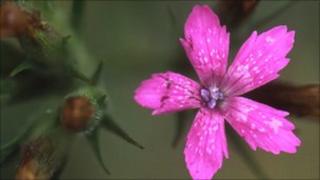 Wild flower experts have seen a 14-fold increase in an endangered plant at one of its few remaining Welsh locations.
Deptford Pinks, classed as vulnerable to extinction, have gone from 23 sites, including Newport Docks last year.
But a habitat in Flintshire has seen the biennial wild flower's numbers rise from 3 plants to 42.
Trevor Dines, of charity Plantlife Cymru, said: "It's emblematic of the need for correct management of sites where rare plants grow."
The Deptford Pink (Dianthus armeria) is a wild relative of garden plant Sweet William, producing a bright pink flower from early July through to early September, although flowering can continue into early November.
Small populations cling on in only 7% of its total historic area, and the flower is now thought to be extinct in Scotland and is no longer in Northern Ireland.
It was reduced to only four sites in Wales: at the Flintshire nature reserve belonging to the North Wales Wildlife Trust; a quarry near Pontypridd, Rhondda Cynon Taf; around a reservoir near Port Talbot; and along a farm track on a site near Llanelli, Carmarthenshire.
Then in 2007, an extra site was found after an observant cyclist found it growing beside a cycle track in Llanelli.
Mr Dines said: "At all sites the species is in a precarious situation as it relies on a certain amount of disturbance to produce open ground for seedlings to germinate.
"When this disturbance is provided, through correct grazing, or mowing or management of scrub by volunteers, hundreds of plants can appear.
"If not, the sites can quickly get overgrown and the species will rapidly disappear."
At the 25-acre (10 hectare) Coed y Felin nature reserve, in Flintshire, the charity arranged volunteers to control the scrub and keep the site open.
From an initial 3 flowering plants in 2002, the charity said recovery efforts saw it flourish to 74 plants in 2007, with 42 flowering recorded on its last survey in 2008.
North Wales Wildlife Trust is now working to maintain the site and extend the area where the Deptford Pink grows.
'Fabric of our landscape'
Mr Dines added: "Incorrect site management is the number one threat to our wild plants and flowers.
"With one-in-five of our wild plants threatened with extinction in Wales, we need to refocus our attention onto them.
"If we don't, we'll lose not only the colour in our countryside but the very fabric of our landscape that sustains us and all our other wildlife."