North Wales Police discusses hundreds of job losses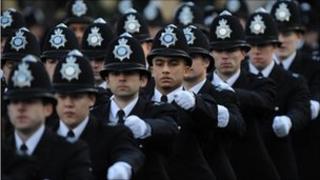 North Wales Police Authority has met to discuss cuts which could see hundreds of job losses.
The force is implementing cut backs enforced by the coalition government of between £25.5m and £30.5m over the next four years.
The authority says it anticipates "losing up to 251 police officers in the next four years".
Mark Polin, North Wales Police chief constable, has said he would do all he can to protect essential services.
But he told BBC Wales he could not rule out cuts to the number of officers on the beat in the current financial climate.
He said: "I will do my best to protect frontline services. Whether that will be achievable, only time will tell."
Police officers cannot be made redundant, but with staff turnover, 251 officers are expected to leave and will not be replaced. There are currently 1,574 police officers and 1,039 support staff in the force.
BBC Wales reporter Chris Dearden said: "This year the force hopes it won't have too much difficulty meeting savings. It has already put a freeze on recruitment."
'Tough times'
The cutbacks are based on estimates of between 17 and 25% cuts to the force's budget, as predicted by the authority. It also expects it will have to lose between 316 and 484 support staff to meet the savings.
The cutbacks will also impact other forces, who have yet to detail the impact on their staffing numbers. Forces are also waiting to find out if the grants they receive from local authorities will be affected.
Alun Lewis, chairman of the North Wales Police Authority, told BBC Radio Wales the force faced a tough time ahead.
He said: "I'm concerned about the service that will be available to the people of north Wales.
"All I can say is that both the force and the police authority will do everything we can to ensure that we provide the best possible service within the resources that are available to us."
Mr Lewis said he would not go into any detail on cuts to the service.
"We're still in the middle of taking a look at that," he said. "The force has a project in place and there are no scared cows as far as that's concerned. Everything is being looked at.
"But until we know the exact figures in terms of what our cut requirements will be we're not in a position to give you any more detail."