Point Lynas lighthouse for sale at £1.5m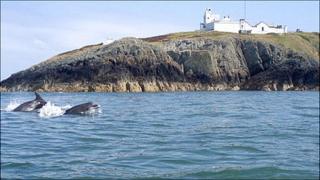 A lighthouse overlooking the Irish Sea has gone on the market for £1.5m.
Point Lynas lighthouse near Amlwch, on Anglesey, has been put up for sale by owners Robin and Iona Beckmann who have spent 10 years restoring it.
The Grade II listed castellated building, set in 17 acres (6.87 hectares) of headland, comes with three cottages.
The 36ft (11m) lighthouse is fully automated and still functioning and includes a fog horn in low visibility.
The Beckmanns bought the building for around £200,000 when Trinity House began selling off some of its automated sites.
The couple, who live at the property with their two children, told The Western Mail newspaper they had first seen the site more than 30 years ago, before they were married.
It came on the market just as they were planning to move to Anglesey from the south of England.
Mr Beckmann's work commitments have forced the sale, they said.
Tim Goodwin, of estate agents Williams and Goodwin, which is handling the sale said the lighthouse was a first for the firm.
He said: "It is in a lovely position.
"It is a one-off property - it's as simple as that, as lighthouses tend to be in spectacular locations."
Promotional material for the sale includes images of a pod of dolphins passing within yards of the shore beneath the lighthouse.
The 1,000-watt lamp at lighthouse cast a beam over 20 miles to warn shipping about the rugged coastline, while the for horn sounds every 45 seconds when visibility drops to less than two-and-a-half miles (4km).
A lighthouse has operated at the site since 1779.