Welsh charities facing funding challenges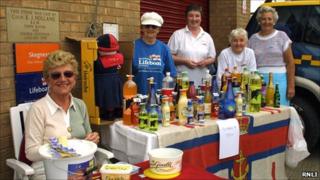 For anyone trying to survive in the charitable sector in the current economic climate in Wales, it will come as absolutely no surprise that life is tough.
But just how tough? It is a question the body responsible for overseeing charities in Wales and England, the Charity Commission, has been trying to answer.
However, the findings are, in their own way, unusual, and would seem to beg more questions than they answer.
While their report makes no distinction between organisations in Wales and England, they say the Welsh picture is "largely similar" to their English counterparts.
So, no prizes for guessing that 59% of charities are finding it harder to survive and meet their objectives than a year ago.
However a few eyebrows may be raised when you hear that 74% of large charities say they are struggling, compared with just 24% of smaller groups.
Among charities which find themselves in choppy waters is the RNLI, which says traditionally Wales is an area where it has enjoyed strong support.
"We believe we are going to reach our fundraising targets for this year - just," confessed David Brann, RNLI's director of fundraising and communications.
"But even this will take huge ingenuity and effort from our volunteer fundraisers. However, we have great faith in the Welsh public who we hope will continue to support us in these difficult times.
"Our challenge now is to ensure we check and double-check our income and expenditure, always trying to make sure that we do things as efficiently and as cost-effectively as possible."
Peter Jones is a trustee for one of the smaller charities which seem to be managing better.
Ty Glyn Davis is a charitable holiday home near Aberaeron, Ceredigion, which offers subsidised breaks for disabled children and their families.
The trustee says it is small enough to be adaptable.
"Instinctively you'd think that bigger charities should be able to raise more money, and would therefore struggle less when times get tough," he said.
"To a degree that's true, but a more common reality is that most charities are dependent on being paid by someone to use their services.
"When service users cut back on their spending, you multiply the size of the charity, and you multiply the size of the problem."
Regional splits
He said the charity had been fortunate in having its premises and a substantial sum to run them bequeathed in a will.
But he added: "As public funding is squeezed, we're seeing less business. So even though we're not too badly off ourselves, we're suffering the recession by proxy."
Across Wales and England donations have risen, though only at or slightly below the rate of inflation.
However this could be a slightly misleading indicator of the health of charities, as only 45% of those surveyed said that they actively fundraised from the general public.
The remaining 55% rely on either grants from larger charities, or service contracts from the public sector.
It is here where the regional differences hit home.
So while devolved investment has been good news for health-related charities, the assembly government restrictions on local authorities spell disaster for groups relying on council contracts to continue operating.
Nevertheless, across the UK, David Cameron's talk of "big society" and "small government", where the charitable and private sectors take on responsibilities from the state, seems to have encouraged some optimism.
Given the financial climate, an incredible 84% of charities say they think the next year will be better than the last, up from 69% in the previous survey.
However, the Charity Commission was at pains to point out that talk of big society is at odds with the reality of small spending.
"Optimism is, of course, very important, but it must be matched by a recognition of the reality of the financial situation," the commission stated.
"We want trustees to channel their formidable energy into doing all they can to protect the valuable work of their charity.
"Despite what we may be seeing in other areas of the economy, our research shows that the financial recovery for charities may lag behind that of other sectors."
Dame Suzi Leather, who chairs the commission, added: "Clearly severe cuts lie ahead in both local and central government resources; many local authorities are already identifying spending on the voluntary sector as being vulnerable.
"There is a real concern that charities which receive money from the public purse to fund their valuable work could find themselves at a financial cliff edge in March 2011.
"This suggests that the high levels of optimism displayed by the charities we spoke to may be misplaced."