Fight over Llanishen reservoir in Cardiff continues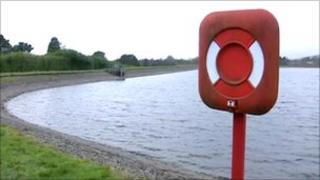 Campaigners say a decade long battle to protect a Cardiff reservoir will continue, despite its owners being given permission to drain the lake.
Western Power Distribution (WPD) has been trying for nine years to build homes on the site of Llanishen Reservoir.
However, its planning bids have been rejected several times.
WPD refused to comment but the Environment Agency said it has granted a permit to drain the reservoir.
In March, WPD began draining around three metres from the lake's level, saying the work was necessary to carry out inspections.
But earlier this week it emerged that it had been given a permit by the Environment Agency to drain all the water.
The agency said it was obliged to grant the new permit after WPD demonstrated drainage would have no adverse affect on the local habitat and wildlife.
The reservoir is no longer in active use, but it is seen as a beauty spot and nature haven in the city.
The area has been designated a site of special scientific interest after rare wax caps mushrooms were discovered there.
Deeply unhappy
WPD has long wanted to build on part of Llanishen Reservoir, creating 300 homes, a wetlands area, education centre and a new sailing club to replace the one that currently uses the site.
But its planning applications have been rejected on three occasions by Cardiff council, and following court cases and appeals.
Local resident Ted Thurgood, former chairman of the group set up to fight the plans, Reservoir Action Group, said he was deeply unhappy about the latest development.
He said he was concerned about how draining the lake could affect the structure of the reservoir.
He also said opposition to the development of the site would continue whether the reservoir was drained or not.
Leader of Cardiff council, Rodney Berman said the move was "extremely disappointing".
"I am sure that many people in the local community will be nothing less than devastated," he said.
"Earlier in the year I specifically wrote to the Environment Agency to ask them if they could intervene to stop the drain down.
Enforcement action
"However, it seems that their hands have essentially been tied and they have ultimately been powerless to stop WPD from taking this action.
"I know that many local residents will view this as nothing less than an act of wanton destruction."
In a statement to the council leader, the Environment Agency's area manager Graham Hillier said it would now carefully monitor the discharge of water into the Nant Fawr stream.
"If we find any evidence of any damage or pollution to the environment, we will consider appropriate enforcement action against WPD, depending on the environmental impact," said Mr Hillier.
A spokesperson for WPD said the company was making no comment in relation to the reservoir.