WRU to 'fast track' £32m Millennium Stadium debt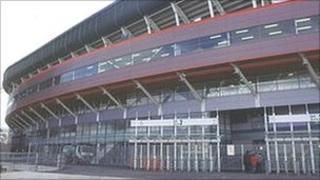 The Welsh Rugby Union has unveiled what it calls an "ambitious" financial plan to repay millions of pounds of debt on the Millennium Stadium.
A fast-track repayment plan aims to clear the debt from the development, potentially as early as 2021.
In a deal reached with Barclays Corporate, the current level of the term loan is to be reduced from £32m to a low of £25m.
A £60m loan was taken by the WRU to fund the stadium, which opened in 1999.
Barclays Corporate has agreed to the plan based on the WRU's current and future performance projections.
WRU chief executive Roger Lewis said: "This is a clear signal that we have now achieved a proper level of corporate confidence in the sound financial base of the group.
"Internally we trust in our ability to deliver on promises and Barclays Corporate clearly share that confidence.
"We work extremely hard to maximise our income and it is now right and proper for us to extend that ability into a renewed and rigorous formula to manage and control our debt."
The WRU has also pledged to invest in the game from grass roots up.
"We want to leave a legacy of financial sustainability for Welsh rugby and the stadium for generations to come," he added.
"We could have taken an easy option and left things the same, but just like anyone who wants to reduce their home loan we have had to spend a significant amount of cash to rework the debt facility."