Homes in Swansea clean up after flash flood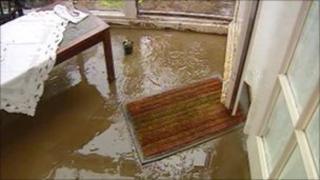 A clean up is under way in parts of Neath and Swansea after heavy rain caused flash flooding.
The Skewen, Birchgrove and Glais areas were worst affected, with roads closed as firefighters had to pump water out of several homes.
Mid and West Wales Fire and Rescue Service said a blocked culvert was thought to have been the cause.
The flash flooding in the Birchgrove area of Swansea has hit properties that were flooded in November last year.
Householder Tina Nicholls was still at work at a local nursing home when she was told her house had been flooded.
She said said she had been due to start redecorating next week.
She said: "I just could not believe it. It was only yesterday that we bought wooden floors, and other stuff.
"We were promised that it wouldn't happen again [that] it was "an act of god" and, by god, it's happened again.
"All through a culvert that's not well maintained at all."
Fire crews had requested a boat to assess the situation in the area but it was not needed.
The incident is over, and council staff are clearing the road of debris left over when the floodwater subsided.
Elsewhere, the fire service said an elderly woman who was reported to be trapped in her house by several feet of water at Glais was safely rescued from her home unharmed but "a little shaken". No more details were available.
The fire service said it had been inundated with calls about flooding in the Swansea area.
Flood water has also been reported in Powys on the A470 between the B4358 (Newbridge-on-Wye) and A44 (Llangurig).
There has also been flooding on the A5152 Grosvenor Road in Wrexham.