Police job cuts are 'inevitable'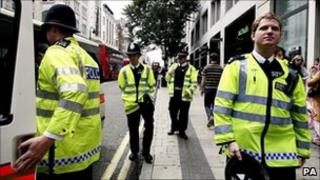 Cuts in the number of police officers will be "inevitable" if forces have to make 12% savings, it has been claimed.
The Chief Inspector of Constabulary says forces should be able to cut that amount from budgets before frontline services are hit.
But ex-Gwent officer Ian Johnston, president of the Police Superintendents' Association, said he believed jobs will go.
Some Welsh forces have already stopped recruiting.
Like other government departments, the Home Office - which funds the police - could be facing cuts of about 25%.
The Chief Inspector Sir Denis O'Connor said a "total redesign" of how officers work - such as changing shift patterns and more collaboration between forces - could save 12%.
But, in a joint report with the Wales Audit Office and the Audit Commission in England, he warned further cuts would hit police availability "unless it was prioritised over everything else".
However, Mr Johnston, who is a former Gwent Police superintendent, said he believed that frontline services would be hit with cuts lower than 12%.
"I personally think it's inevitable [that we will lose officers from the beat]," he told BBC Radio Wales.
"You can't take 12% out of any equation when 83% of your budget is on personnel, I think that, yes, we will be losing police officers and the sooner the police service accepts it and we get on with limiting the damage the better."
He said Dyfed-Powys Police Chief Constable Ian Arundale had been "honest and upfront" with the public when he said over the weekend that tough times lay ahead.
Mr Arundale said there was "an obvious risk" cuts could lead to a rise in crime.
His force has suspended its next intake of officers while North Wales Police has a freeze on all jobs.
South Wales Police is filling officer vacancies but has frozen civilian posts and is monitoring the situation. Gwent Police is still hiring but plans to review if any announcements on funding are made.
Malcolm King, a former chair of the North Wales Police Authority, said police forces had been making savings for years and that there was not much inefficiency left.
He said neighbourhood policing was already "stretched" and that a 12% cut "suggests there's an absolute inevitability that neighbourhood policing will be the first [to be hit by cuts] and hit very hard".
However, Anthony Barrett, from the Wales Audit Office, said some police forces had already been able to make the 12% savings "without it adversely affecting upon performance."
"Any savings that need to go beyond that, then decisions will have to be made about what police officers are or aren't going to do in the future," he added.
"It won't be easy - there'll be a lot of pain involved. All public services are going to have to make savings."