Old Welsh theatres on at-risk register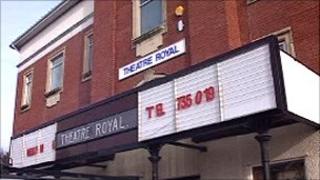 Five old theatres in Wales have been placed on the at-risk register by a theatres preservation group.
The Theatres' Trust has included the buildings, three of which have heritage status, in its annual Theatre Buildings at Risk.
They include Swansea's Palace Theatre, and Barry's Theatre Royal, which operated as a cinema for many years.
The trust said the recession had put more theatres under threat of demolition or stalled renovation plans.
The three other buildings are the Patti Theatre in Craig-y-Nos, Powys, Pontypridd Town Hall, Rhondda Cynon Taf and Theatr Elli in Llanelli, Carmarthenshire.
The Palace Theatre, an unusual triangular-shaped building at the end of High Street, opened in 1888 as a music hall and hosted acts such as Charlie Chaplin.
Sir Anthony Hopkins made his professional stage debut there in 1960, while Ken Dood became the last comedian to appear there before it was converted to a nightclub in the 1970s.
In recent years, a campaign has been underway to reopen the building as a theatrical venue, and the trust reported Swansea council may be interested in bringing it back to use as part of the city's regeneration programme.
Both the Palace and Theatre Elli are Grade II-listed buildings, while the Patti Theatre is Grade I.
Theatre Royal in Barry, Vale of Glamorgan, which had operated as a cinema since the 1930s, shut in April 2008 despite a long campaign by local people to keep the venue as an independent cinema.
They have continuing to campaign to have the venue classified as a listed building and to reopen it as a cinema.
Rob Dickens from the Theatres' Trust said he was concerned about the impact of the recession on both theatres under threat of closure, and those that were already empty.
"Previously closed and abandoned theatres are also now more of a target for redevelopment and demolition.
"We cannot lose our theatre heritage in this way," he said.