MPs fears over Goldtrail tourists stranded abroad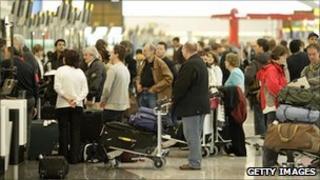 Concern that victims of the collapsed holiday firm Goldtrail will be taken advantage of have been raised by an MP.
Vale of Glamorgan MP Alun Cairns says he is concerned tourists stranded abroad could be forced to pay "extortionate charges" to get home.
Speaking on the Politics Show Wales, Mr Cairns said that everything was operating as efficiently as it could under the circumstances.
But he wants to ensure people abroad did not get taken advantage of.
"The ones that are the hardest hit at the moment are the ones that are about to depart," he said.
"They will get a refund but that will take some time.
"We need to make sure that there aren't people taking advantage of such a difficult situation."
Mr Cairns said he would be calling on the UK government to make a statement in Parliament on Monday.
He said Transport Secretary, Phillip Hammond, or one of his junior ministers, need to reassure people that all that could be done was being done.
Refunds
The Greece and Turkey holiday specialist, based in south London, went into administration on Friday, affecting as many as 50,000 people.
The UK's air industry regulator said it was making plans to repatriate those currently abroad, and those due to travel later should apply for refunds.
Goldtrail customers can call the CAA on 0203 4410846 for information.
About 16,000 Goldtrail customers were overseas when the firm went into administration on Friday afternoon, while a further 2,000 were scheduled to fly from the UK over the weekend.
The CAA said all flights back to the UK from Turkey and Greece would operate as scheduled up to and including Monday. Information on flights from Tuesday will appear on its website later.