Welsh service for martyred Saint John Roberts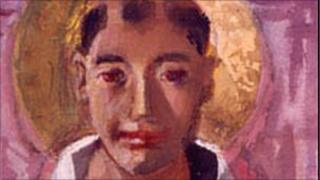 Welsh has been spoken for the first time in a ceremony at Westminster Cathedral to honour the martyred saint John Roberts.
On Saturday, Archbishop of Canterbury Rowan Williams addressed the congregation in both English and Welsh.
The service was part of a series of events to mark the 400th anniversary of the martyrdom of the Welsh saint.
The monk, from Trawsfynydd, Gwynedd was hanged, drawn and quartered in 1610 for being a Catholic dissenter.
But he was later canonised by Pope Paul VI in 1970.
The multi-faith service was attended by the heads of all churches and all the archbishops and bishops of Wales.
There was also a group of representatives from Douai in France where St John Roberts founded the famous monastery of St Gregory.
Speaking before the service, Vincent Nichols, Archbishop of Westminster, said: "Many people in Britain may well be unfamiliar with St John Roberts.
"I hope that this celebration will help us all to appreciate and be inspired by the heroic faith of this great man."
BBC Newsreader Huw Edwards also took part in the service.
He said: "St John Roberts is an inspiring figure to so many people and it is fitting that we should be honouring his achievements in such a hallowed space."
During the ceremony Lord Dafydd Elis-Thomas, the presiding officer of the National Assembly of Wales, related the achievements of St John Roberts's life.
Songs
Welsh folk singer Dafydd Iwan performed his song 'Oscar Romero' and 13-year-old National Eisteddfod prize-winner Mali Fflur read a new poem about St John written by the poet Dafydd Pritchard.
Other highlights included Neath tenor Stuart Kale joining with the Westminster Cathedral Choir to sing "Beatus Juan de Mervinia" in both Latin and Welsh.
The piece was specially commissioned for the service from the Welsh composer Brian Hughes.
St John Roberts studied Law at Oxford before travelling to France and converting to Catholicism.
He returned to London to care for the poor but was exiled many times by the anti-Catholic authorities before eventually being sentenced to death in Tyburn on 10 December 1610.
On Sunday a special mass in English, Welsh and Latin took place at the Chapel of St John's College, Oxford at 1100 BST.