Three new schools for south Wales in £144.8m package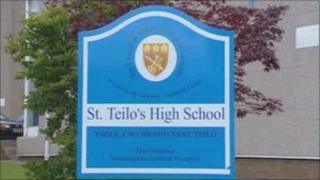 The location of three new secondary schools has been announced as part of a £144.8m investment in school buildings.
The new schools will be built in Bridgend county, Cardiff and Penarth in the Vale of Glamorgan.
The cash will also be used to improve existing facilities, meet Welsh medium provision and develop special education needs schools elsewhere in Wales.
The assembly government said the investment would help provide schools fit for the 21st Century.
Education Minister Leighton Andrews said: "Today's announcement of £144.8m capital investment in schools demonstrates clearly our ongoing commitment here in Wales to improving and enhancing school buildings."
The cash will be used on a total of 15 projects around the country including Anglesey, Carmarthenshire, Ceredigion, Conwy, Denbighshire, Flintshire, Gwynedd, Pembrokeshire, Rhondda Cynon Taf, Swansea, Torfaen, Vale of Glamorgan and Wrexham.
'Poor state'
A new Church in Wales secondary school will be built in Cardiff, while the existing St Teilos school will be refurbished for use as a Welsh medium secondary school.
In Bridgend county, a new community school will replace Ogmore and Ynysawdre comprehensives, which are due to amalgamate in September next year.
The Penarth learning community scheme involves a new school being built which will include special education needs facilities.
A report by the Auditor General for Wales published on Wednesday said many school buildings in Wales were still in a poor state following "weaknesses" in the management of the investment programme.
Gillian Body said there was a long way to go before all schools in Wales were "fit for purpose".
However, she said many pupils and teachers had benefited from a "much improved working environment".
Meanwhile in England, UK Education Minister Michael Gove recently cancelled a £55bn redevelopment programme of schools.
But he said the UK government would continue to invest in school buildings.