T in the Park: The rise and fall of Scotland's biggest music festival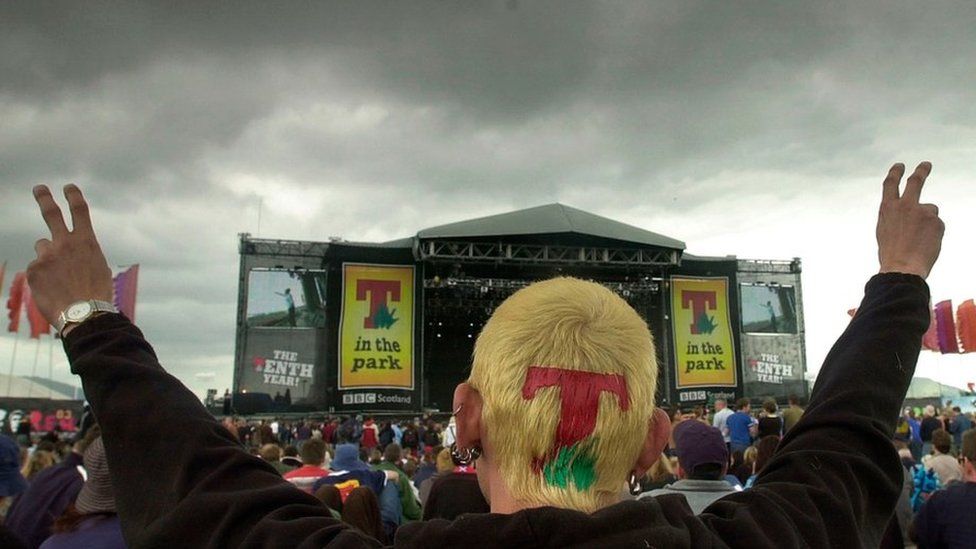 For over two decades T in the Park was Scotland's premier music festival - but its first outing was almost its last.
Kicking off in 1994, it became a rite of passage for countless young music fans, with its legendary atmosphere, bouncing crowds, and memorable performances.
At its peak, the world's top artists, from Beyonce to Blur, descended on its Balado fields.
The seeds of T in the Park were sown four years before the festival opened its gates, when Glasgow became European Capital of Culture in 1990.
A change in the licensing laws meant clubs could stay open longer.
There were huge dance events in the city, including an all-nighter organised by DJ duo Slam in nearby Strathclyde Country Park.
Glasgow also hosted the Big Day Out, which was then the biggest free rock and pop concert ever in Scotland.
With the success of the European Capital of Culture, myriad new bands forming and a vibrant dance scene, promoters DF Concerts began to think that Scotland was ready for its own major music festival.
The festival's co-founder Stuart Clumpas said: "All the Europeans started to do festivals and we started to visit them.
"All these promoters had their own festival - that was their big flagship.
"And I'm going, I think I can do this in Scotland. I wanted it to be Scotland's flagship event."
Some people thought Scotland couldn't host a music festival because of the rain, but he thought: "Well, I'll show you."
Music journalist Fiona Shepherd said the idea of a summer music festival was "a step too far" for some people.
"Even though we had this scene, I think people felt there wasn't enough of a fanbase to support a summer festival," she said.
"Thank goodness DF decided to forge ahead and go with it. You need somebody to have the vision to put something forward."
An initial idea to hold the festival on Arran was scuppered by a lack of extra capacity on the ferries.
Clumpas said: "My whole idea was to do a Glastonbury-type thing, but where everybody could go home at night and then come out the next day.
"That's why Strathclyde Park appealed, because I felt it was like this countryside in the middle of the city."
Colin Roger, DF Concerts' head of event management and production, said that at that time, the company was just "four or five people in an office winging it".
But an arrangement with Denis Desmond, who promoted the Féile festival in Ireland, meant the fledgling T in the Park had its sights set high for bringing in top acts.
Geoff Ellis said: "We decided to piggyback T in the Park and Féile together so that we could go out to artists, particularly American artists like Cypress Hill and Rage Against the Machine.
"We kind of said look, have a Celtic weekend. You don't have to do England, come and do Ireland and Scotland."
Tickets went on sale in late February 1994, but with a month to go before the event only half had been sold.
Clumpas and Ellis were understandably nervous, so they approached Glastonbury festival boss Michael Eavis.
Geoff Ellis said: "Michael said if you've sold half your tickets a month before you're doing well, so that gave us a bit of peace of mind."
Stuart Clumpas said he had made his mind up that the festival was "either going to bankrupt us or be a success."
A few days before the event he drove past the site, which was still being built.
He said: "I remember looking in and going, you idiot, you've spent the last four months digging your grave.
"I know you're about to bloody well jump in it for the next five days."
But on 30 July, 1994, the gates at Strathclyde Country Park opened to 17,000 music fans, and T in the Park was born.
Headliners over the two-day event included Primal Scream and Blur, with a new band called Oasis playing halfway down the bill in the King Tut's Tent.
Cypress Hill were delayed and would miss their slot, so the organisers asked Rage Against The Machine if the hip-hop outfit could join them on stage.
Stuart Clumpas said: "The only way I could get them on stage was by putting 20 grand on the table and pushing it towards them.
"If you don't want to play, be difficult, and I'll take it home."
The first T in the Park was a critical, if not financial success, with Clumpas estimating a £1m loss between DF and Denis Desmond.
But good reviews and enthusiastic punters spurred the team on to give it another go.
Geoff Ellis said: "It was a big risk. But the sun shone, the audience enjoyed it so much, and the artists were phenomenal."
Three years later, insufficient campsite spaces and hordes of ticketless troublemakers trying to break into the site forced it to move.
But it was a blessing in disguise - T had found its spiritual home.
Balado is a small village two miles from the market town of Kinross, in the east of Scotland.
It was known more for its World War Two airfields and a Nato communication facility that famously resembled a golf ball.
Geoff Ellis said the site had lots of space. While it wasn't purpose-built for events, the old runways meant it was "really suitable".
BBC presenter Edith Bowman said the move to Balado made the festival feel more accessible for everybody from across Scotland.
Geoff Ellis said: "It worked very well for us, but it brought about a lot more organisation, because with 70,000 people you are running a town."
The golden age of T in the Park had begun.
DF Concerts' head of events, Colin Rodger, said: "We had to think of something that made this unique, and we kept coming back to our audience.
"It's that expectation of a band coming to Scotland, they're going to have a fantastic time because of the audience."
Edith Bowman remembers her first T experience at Balado in 1998.
She said: "I'd already had the opportunity to interview Beastie Boys, which was slightly more glamourous in New York.
"Cut to T in the Park, it's peeing with rain, the Beastie Boys don't care. They wore jumpsuits and wellies and hard hats.
"Stick that in your weather pipe and smoke it."
Performers at Balado included a roll-call of some of the world's biggest acts, including Rihanna, Coldplay, Foo Fighters, and Calvin Harris, who was introduced by movie star Will Smith.
The Slam Tent was also hugely popular, with partygoers shunning the sunlight for a weekend-long club night featuring acts from the Chemical Brothers to Fat Boy Slim.
But trouble was brewing underground.
A petrochemical pipeline running from Aberdeen to Grangemouth passed right under the site.
Even though T in the Park had been there for 17 years, the Health and Safety Executive thought the risk presented by the pipeline was too great.
Geoff Ellis said: "There's a school on that pipeline, there's Aberdeen Airport runway on that pipeline. They operated every day, we operated one weekend."
But T was forced to move again.
After failing to find anywhere that would live up to Balado's standards, the team opted for the next best site, 20 miles away at the Strathallan Castle estate.
However, despite a line-up including the Stone Roses and Red Hot Chilli Peppers, and crowds determined to enjoy themselves, the move to Strathallan in 2015 was far from easy.
After the site plan was finalised, an ospreys' nest was found. The species is protected by law and plans were forced to change at the last minute, with access routes having to be altered.
Geoff Ellis said: "It got planning permission, but the conditions meant that people who had been dropped off had to walk nearly a mile to get into the campsite.
"It was just the opposite to everything at Balado."
The festival also had to contend with horrendous weather.
Geoff and the team decided to give it another go in 2016, but efforts to turn things around at the site were overshadowed by tragedy.
Following the deaths of two teenagers and a serious sexual assault at the event, coupled with the organisational problems, the team decided to take a year out to assess their options and get the festival back on track.
However, it wasn't meant to be.
Time had been called on the largest music festival Scotland has ever seen.
Over 23 years and three locations the festival had a combined audience of nearly three million people who were there to see almost 3,000 performances.
For many, summer hasn't been the same since.