Is my rapist still a serving soldier?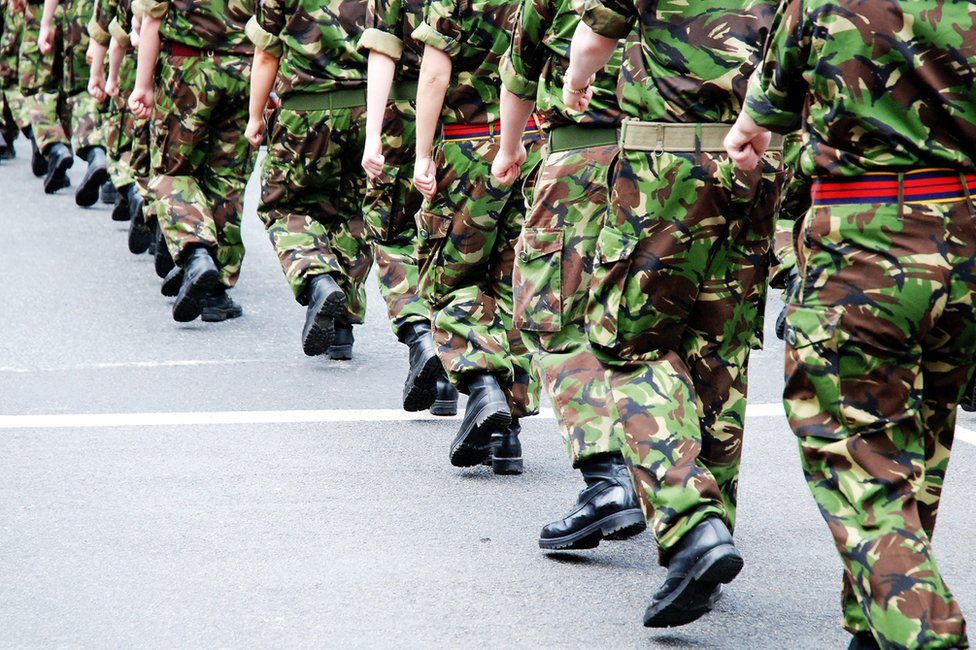 A woman who was raped by a serving soldier is demanding to know if he is still being employed by the Army.
The woman, known as Ms AB, is one of three women in Scotland to win groundbreaking rape cases in the Scottish civil courts recently.
Her rapist, Sean Diamond, was based at Leuchars at the time of the offence in 2015. He later served with the Queen's Dragoon Guards based in Norfolk.
The Army said it could not disclose any information due to data protection.
Diamond's victim was awarded £119,250 in December but has not yet received any of the money.
She does not believe Diamond should be allowed to continue with his Army career but has been unable to find out if he is still employed as a soldier. She said her requests for meetings with army representatives had so far been ignored.
"The chances are - and I would put good money on it - they haven't done anything, they have taken no action and they are still continuing to host a rapist within their barracks.
"We have the right to know that we have the safest people within that job role."
Ms AB was raped after meeting Diamond in a Dundee nightclub in 2015 where she was celebrating her birthday.
She went to sleep fully-dressed on a friend's sofa but woke up as she was being raped, pinned down on her front.
Diamond was tried in October 2017 but the jury found the case against him not proven.
However, Diamond subsequently applied to have the decree recalled, claiming he had not understood the consequences of failing to respond.
Because there was no substantial defence, the court agreed to lift the judgement and allowed the case to be heard again - the details of which were made public in December.
However, this time Diamond put up a defence and lost the case.
Ms AB became only the second person in Scotland to win a rape case in a civil court after a not proven verdict.
After being contacted by BBC Scotland, an Army spokesperson said: "Our personnel at all levels of the British Army are held to the highest standards and we do not tolerate any form of unacceptable behaviour.
"The judgment regarding the civil case against a soldier in The Queen's Dragoon Guards was subject to further review by the chain of command to determine appropriate subsequent actions.
"The outcome of a case in a court such as the Court Martial is a matter of public knowledge, but the position is different for administrative action under employment law principles. The conduct and outcome of that process remains confidential and subject to the law on data protection."
'Where's the punishment?'
Ms AB said she was "not surprised" by the Army's response.
"They think they are invincible," she said. "They can continue to do what they want and it's why they have given this individual, who is a rapist, the allowance to have in his mind that he's invincible and can do anything."
She said she was annoyed that the Army was using data protection as its argument, adding that she had often read about disgraced soldiers being named and shamed and dismissed from service.
"I was let down by the criminal justice system," she said. "I went to a civil court in order to get justice. I got my justice in the sense that he was ruled a rapist but where's the punishment? Where's the consequences for him?
"He's still employed, he's still living his life, he's never gone to jail."
Ms AB said Sean Diamond had not yet paid any of the damages owed to her.
"I've not received a penny," she said, adding that she still had to pay her legal costs for the civil case which was meant to have been covered by Diamond.
She said the rape and subsequent legal cases had had a huge impact on her life.
Before the case even went to trial, within the first year after the rape, she started having panic attacks, was diagnosed with PTSD and attempted suicide.
"My life has changed dramatically," she said. "I'm a suicide survivor. After I was raped I felt like there was no way for me to continue to live my life. Somehow I managed to come through that.
"Six-and-a-half years on I'm now living abroad because I didn't feel safe or happy living in the UK. It's been a very long, tormentful journey.
"Everything's still very much a live and raw memory and it will always be a very raw memory that will never go away and it's something that I have to live with for the rest of my life."
The Sean Diamond civil court outcome was only the second ruling of its kind in recent Scottish legal history.
Mr Coxen had previously faced a criminal trial but the case was found not proven.
But that case was different as Ms Clair, who waived her right to anonymity, brought the civil action after the Crown had decided against prosecuting the pair in the criminal courts.
The judge in the civil court found that the rapes had happened and awarded Ms Clair £100,000 damages from the men.
Ms AB has said that she will continue to fight for justice for rape victims.
"If there was justice in this world Sean Diamond, Stephen Coxen, David Goodwillie - all these people would not continue to live a normal life," she said.
"My advice to any survivors is just never give up. I promise you there is light at the end of the tunnel. It feels like there's not at times, but there always is."