Perth hosts first concert for live audience since restrictions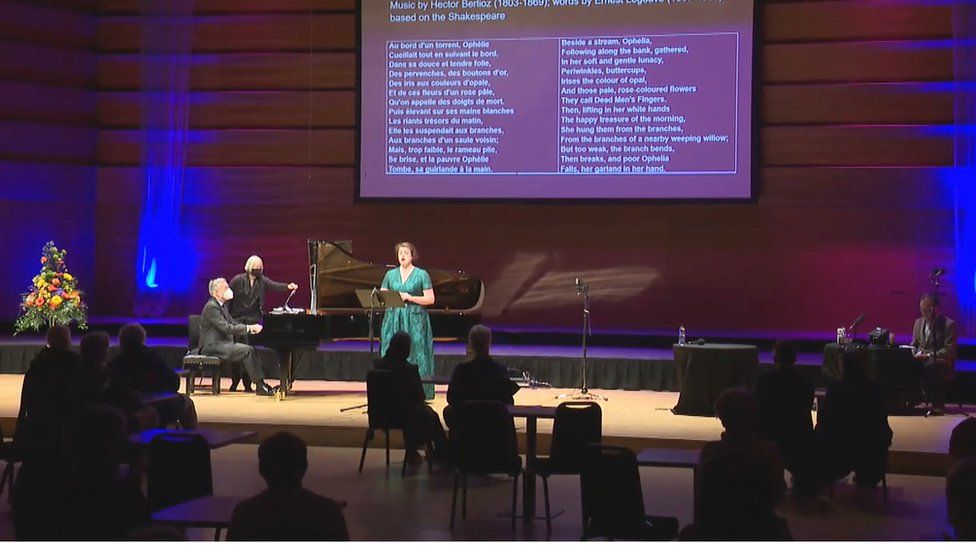 Perth Concert Hall has staged what is believed to be the first concert in front of an audience in Scotland since lockdown restrictions were eased.
Singer Jess Dandy and pianist Malcom Martineau performed to 100 people at the lunchtime concert which was broadcast live on BBC Radio 3.
Social distancing restricted audience numbers at the venue, which can seat 1,200.
The concert is the first of four days of performances at the theatre.
Ms Dandy said performing in front of an audience again had been "unbelievable."
She said: "Music is inherently a communicative artform, so when you're singing into the void, something feels awry about that.
"The audience was wonderfully warm. I don't think you can anticipate what you lose until it's gone.
"When it comes back, that sense of gathering and the magic of that is just palpable."
Indoor events in level two areas are currently permitted with a maximum of 100 people, subject to social distancing measures.
James Waters, classical director at Perth Concert Hall, said he was pleased that the performance could go ahead, but that it was "very hard to work out what the next steps are".
He said: "The regulations say it's a flat number not a proportion of the size of the space."
Mr Waters welcomed the Scottish government's review of distancing, but said "serious anomalies" existed.
He said: "We could go and have a pint in the pub outside the front door of the Perth Concert Hall at one metre's distance.
"But then walk across the road, go into the concert hall, which is beautifully ventilated, put on a mask and have to be two metres apart."
The outcome of the social distancing review is expected ahead of the planned move to level one on 7 June.
A Scottish government spokeswoman said: "Guidance is being produced which may allow higher capacities to be agreed with the local authority or the Scottish government, depending on the event and the setting's ability to safely hold larger numbers.
"Physical distancing has been an important tool for controlling the virus but, as with all restrictions, we will only have this in place as long as is necessary."