'Bittersweet' farewell for Scotland's oldest miniature railway
By Graeme Ogston
BBC Scotland Tayside and Central reporter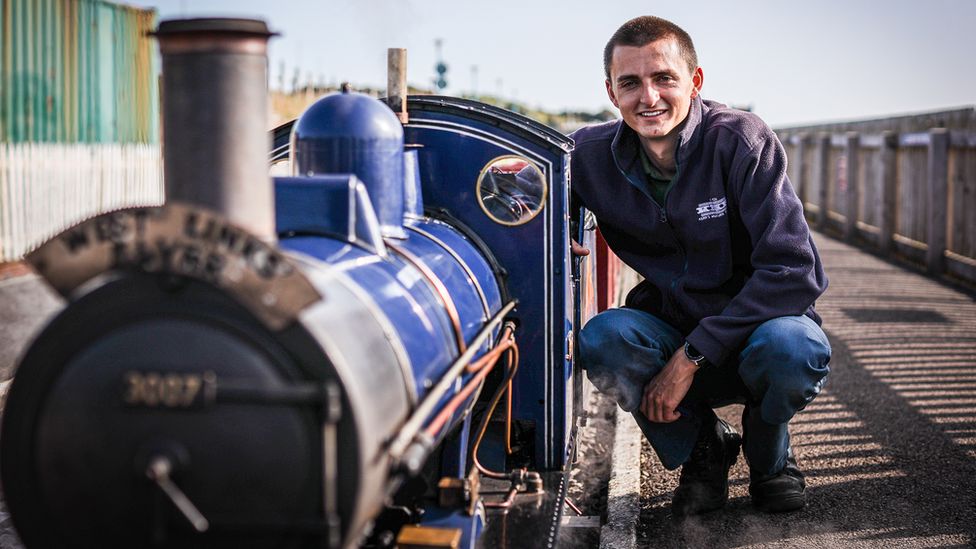 There's a blast of steam, a piercing whistle and excited cries from the young passengers on Scotland's oldest miniature railway.
But this will be one of the last journeys on the attraction which has been a feature of Arbroath's seafront since 1935.
Kerr's Miniature Railway is closing after a decline in visitor numbers over the last decade.
Ten years ago it carried between 13,000 and 14,000 passengers a year, but in 2019 the figure had fallen to 3,500.
John says he appreciates the outpouring of goodwill, and that he was "blown away" when more than 250,000 people watched the video.
But his mind is made up. The railway will close next weekend.
"With that drop (in passengers), it just becomes a harsh reality that things can't continue, sadly," he said.
"People have been very good to offer donations and crowdfunding, but honestly that wasn't what we were after.
"We were after people coming down to ride the railway."
More than two million passengers have enjoyed a journey along its quarter-mile track in the past 85 years.
Jane Reid first rode the railway as a child in the 1960s, and has returned with her two young grandsons.
She said it was "always sunny" during her childhood visits to West Links Park.
"There were always loads of people here," she said.
"There was also a bus and a fire engine that Mr Kerr used to have as well, and that was always busy and fun."
"I think it will be a great loss. When the sun's shining there's no better place to be."
Kerr's Miniature Railway was created by John's late grandfather Matthew Kerr Sr.
John said: "It was built originally in 1934 by my grandfather in his father's dairy farm in Dundee.
"When he was running that railway, just giving rides to children in Dundee, he realised that he wanted to do this full-time.
"He didn't want to be a dairy farmer like the rest of the family and so he acquired this site from Arbroath District Council in 1935."
The railway opened on 22 June that year and quickly proved popular, carrying more than 11,000 passengers in its first season.
Buoyed by this success, Matthew Kerr Sr re-laid the track that winter, as well as increasing the length of the platforms and adding a miniature signal box and a new booking office.
In 1937, he lifted the existing track, replacing it with a wider 10.25in gauge, which remains to this day.
The railway grew in popularity after World War Two, with 60,000 passengers taking a trip during the summer of 1955.
However, the switch from steam to petrol engines and battery power, along with constant vandalism, led a disillusioned Matthew Kerr Sr to put the railway up for sale in 1970.
But no buyers were found and the business stayed with the family.
Ian Lamb, a former reporter for The Courier, moved to Arbroath in 1973.
A lover of railways, he made friends with Matthew Kerr Sr and his son - and even drove the trains on his days off.
He said: "I'll be very sad to see it go. I brought my sons down here, one of them acted as a guard during the school holidays, now I bring my grandchildren down."
Ian said both Matthew Kerr Sr and Jr's dedication to the railway when he first arrived was apparent.
He said: "They did have trouble, even in those days, with people coming down and knocking down bits of the fence.
"Matt Kerr Sr used to sleep in the shed, not the engine shed, but the one that was the centrepiece of the railway.
"Matt Jr followed in his footsteps, mainly for the safety of the railway."
Matthew Kerr retired in 1977, by which time the railway had fallen into serious disrepair.
Undeterred, Matthew Jr decided to revitalise the railway.
However, his job as a teacher meant he did not have the time to make it his career, as his father had done.
He decided to run it as a hobby with friends and volunteers, transforming the railway with a new tunnel and bringing back steam engines, including one sold by his father in 1960.
His son John, who runs the railway with his team of volunteers, said it had always enjoyed a good online following.
He said: "The problem is, it always comes down to numbers on the ground.
"Unfortunately that's what we've lacked in the last few years.
"Lots of folk have been coming down to say their goodbyes, which brings a bittersweet feeling."
John said "every available locomotive" would be out over the two-day event, including an engine originally run at the attraction in the 1940s.
He said: "We're trying to take the positive out of it and make sure the railway has the send-off it deserves.
"But we can't complain overall. Over the years the railway has carried over two million passengers.
"So as much as it will be a great loss for the town, at least it's made a mark in history and it won't be forgotten."
Related Internet Links
The BBC is not responsible for the content of external sites.