Michelin's Dundee factory closes gates for final time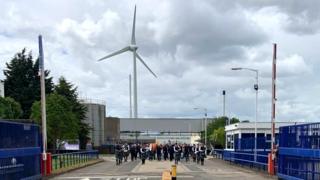 Dundee's Michelin factory has officially closed its gates after more than half a century of tyre production in the city.
The company announced the closure - with the loss of about 850 jobs - in November 2018, saying the factory was "unsuitable" in the current market.
The site will become an innovation centre offering loans and advice to businesses that are looking to expand.
Michelin Dundee produced more than 300 million car tyres in its lifetime.
The factory opened in 1971, with production beginning the following year.
Michelin said the Dundee site, which specialised in smaller tyres, had suffered because of a shift in the market towards low-cost products from Asia.
The company said that since the closure was announced, 731 of its employees had found new jobs, entered education or retired.
It said supporting the remaining employees would be the "sole focus" of a small team left behind on site for the next year.
Factory manager John Reid told BBC Radio's Good Morning Scotland programme: "Having started the process prior to the announcement with nearly 920 people, we got down to 120.
"Clearly Covid has had an impact on that. We estimate it's probably cost us 70 jobs.
"Had it not been for Covid, a few months ago we were looking at an outcome where we might have had 50 people still to find jobs."
Mr Reid, who will become chief executive of the National Manufacturing Institute Scotland (NMIS) in August, said: "We worked very hard to practically support them, but also emotionally support them.
"I think we did as best we could and I think it made a huge difference to people."
'End of an era'
Marc Jackson, the Unite union convenor at Michelin, said: "It is the end of an era for Dundee. For 50 years the plant has provided highly-skilled jobs for thousands of people and it has been a major landmark in our city.
"Unite would like to thank the workforce for their commitment, hard work and loyalty over the years not least since the company made its announcement in 2018.
"We will continue to work with the company to find a long-term future through the repurposing of the plant and we hope that as one chapter comes to an end another one will begin."
With job losses now on everyone's mind, a valuable lesson has been learned in Dundee about how to handle mass redundancy with humanity, dignity and even some fun.
Nine hundred jobs were lost - a double direct hit from globalisation (Asian imports) and changing consumer taste (for bigger wheels). Nearly 800 people have found a future in another job, or choosing to leave the labour market.
Each Friday, as small groups of Michelin workers departed for new beginnings, they were treated to breakfast by the plant's boss, John Reid, and later drinks with some friends. As he told me in an interview earlier this month, the intention was to leave on their terms, in their way, with their heads held high, and meanwhile having a laugh about their shared memories.
'Positive future'
Families were invited in to see the plant and understand what has been going on there for 50 years. On departure day, chocolates and flowers were sent to workers' homes to thank families for supporting them.
To its credit, the French tyre giant put a lot of money into allowing the workers 20 months to let this happen. They helped to prepare the site for a positive future as an industrial innovation park, with a training academy, university links and the tyre factory building retained as a huge facility for newcomers. It will continue to bear the Michelin name.
John Reid also credits "Team Scotland" - government, city council, Scottish Enterprise, trade unions, etc - for co-ordinating and throwing its weight into getting a good outcome, relatively.  Unfortunately, there may soon be plenty of opportunity to apply the lessons elsewhere.