Seven in court after Dundee drilling rig 'occupation'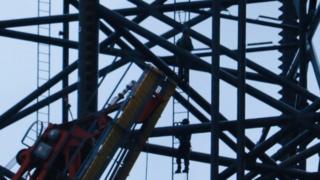 Seven activists have appeared in court in connection with an "occupation" at a drilling rig at the Port of Dundee.
Guy Bowen, Fiona Comrie, Alison Orr, Federico Pastoris, Mark Quinn, Marco Tenconi and Joanne Venables have all been charged with breach of the peace.
All of the accused except Mr Bowen have also been charged with possession of a lock knife in a public place.
The seven, who are aged between 21 and 35, made no plea and were granted bail at Dundee Sheriff Court.
Prosecutors allege the seven navigated the River Tay in a boat on Monday when it was unsafe to do so, and boarded or assisted others to board an oil platform without permission and refused to leave.
It is also alleged they attached themselves to the platform several hundred feet in the air and remained there for a number of hours.
The accused are from various locations, including Edinburgh, Glasgow, Nairn, Aberdeen, and Dundee.