Seven arrests after activists occupy drilling rig in Dundee harbour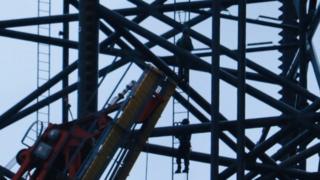 Seven people have been arrested after environmental activists took part in an "extended occupation" of a drilling rig in Dundee harbour.
Three female protesters from Extinction Rebellion Scotland climbed onto Valaris's Ensco 122 from the River Tay.
They climbed halfway up one of the legs of the rig to try to prevent it leaving.
The women came down about five hours later due to deteriorating weather conditions.
Police said seven people had been arrested in total.
Pilot boat
A Police Scotland spokeswoman said: "Police can confirm that four men and three women have been arrested in connection with the incident. Inquiries are ongoing."
Operators Forth Ports said a pilot boat was deployed as a safety precaution.
Extinction Rebellion Scotland said the act was part of a series of "solidarity actions" over the next 10 days.
It said the activists were from the Highlands, Edinburgh and Dundee, and that they wanted to prevent the rig leaving to carry out work for the Shell oil company in the North Sea.
The body representing the UK offshore oil and gas industry said the action was "dangerous and short-sighted."
The protestors left the rig shortly after 17:00 on Monday.
An Extinction Rebellion Scotland spokeswoman said the decision was made to end the occupation due to deteriorating weather conditions.
At the time of the incident, the jack-up rig was berthed at Princess Alexandra Wharf at the Port of Dundee.
A Valaris fleet status from October said the rig was due to begin a nine-month Shell contract for two wells this month.
Shell said it was "aware of the protest action" and said the safety of both protesters and workers was "its prime concern".
Extinction Rebellion Scotland said earlier its activists intended to stay on the rig "for as long as possible" to stop it leaving the harbour, and to halt the rig's "extractive and destructive operations."
The group said: "They have assessed the risks and are properly prepared."
A spokesman for Police Scotland said that officers were sent to the scene at about 11:40 and were liaising with interested parties to resolve the situation safely.
'Short-sighted'
A spokesman for the Oil and Gas UK organisation said: "This is a dangerous and short-sighted stunt which does absolutely nothing to help provide the solutions which will be required to meaningfully deliver net zero emissions by 2045 in Scotland.
"This stunt puts both the activists and offshore workforce at risk and our industry - with its focus on safe operations - will not condone these actions."
A Forth Ports spokesman said: "We have deployed one of our pilot boats at the scene and this will remain in attendance as a safety precaution should anyone require assistance.
"We are also liaising with the rig's owners and with the relevant authorities."