Pets evacuated in large Perth retail park fire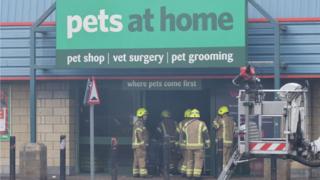 About 30 animals have been evacuated from a pet shop during a major fire in Perth.
More than 50 firefighters are tackling the blaze at the St Catherine's Retail Park.
They were initially called to a fire alarm at the Pets at Home store at 02:13 but they discovered a "large, well developed fire".
A B&M store and a vacant shop were also damaged and photographs of the scene show a roof has caved in.
Police said there were no casualties and a veterinary practice located in the pet shop confirmed on social media that no animals were hurt.
Train disruption
The Scottish Fire and Rescue Service said their teams remained at the scene.
It is not clear where the fire started.
Police Scotland said it was working with the fire service to establish the "full circumstances" of the fire.
Det Insp Jennifer Reid said: "Around 30 animals have now been evacuated from Pets at Home and the majority of the retail park has now reopened.
"I would urge anyone who has information to contact us and would like to thank the businesses at St Catherine's for their support."
A post by Vets4Pets Perth on social media - which has a veterinary practice within the Pets at Home store - said that no animals have been hurt "due to having their own individual housing and fans".
B&M said: "Following an incident last night in our Perth store the store is currently closed."
The fire also caused temporary disruption to train services. ScotRail tweeted earlier on Saturday to say some lines were closed due to the fire.
However, at about 08:00 they were informed that it was safe to reopen the line and said that services were returning to normal.