Police officers injured after hard shoulder crash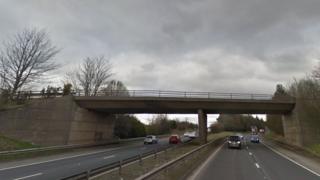 Two police officers have been taken to hospital after their stationary car was hit by another vehicle on a motorway hard shoulder.
The male officers were attending a Vauxhall Corsa which left the road on the M876 near Falkirk at about 07:40.
The police car was then hit by a Renault Clio on the hard shoulder while the officers were sitting in it.
The man driving the Clio which hit the police car, and the two officers, were taken to Forth Valley Royal Hospital.
All three men had non-life threatening injuries.
The female driver of the Corsa, which left the road in the original incident, was uninjured.
The 38-year-old driver of the Clio has been charged in connection with careless driving.
The incident, which took place on the eastbound M876 near to junction seven of the M9, closed the road for several hours but it reopened about 13:30.