V&A Dundee commissions its own video game for exhibition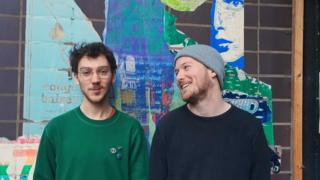 V&A Dundee has commissioned its own video game to be featured in an exhibition at the museum.
The game, called Plaything, will be part of 'Videogames: Design/Play/Disrupt', when it comes to the city from 20 April.
The exhibition will explore the role of the gaming industry in today's society.
Filmmaker Will Anderson and game maker Niall Tessier-Lavigne designed the game which explores character development and the idea of self in video games.
The designers met online through an appreciation of each others' work and the project is their first together.
Plaything has been described as "a joyous and intimate web-based game" and blends hand-crafted animation and interactive art.
Players can create a small animated character in the game.
The character will change behaviour based on its experience with the users throughout the game.
The game's creators have also secured funding from Creative Scotland to create a mobile version of Plaything.
Mr Anderson said: "We want our game to be a kind, thoughtful and surprisingly emotional experience with a character you create, mixing generative art with character animation.
"We want everyone to have their very own Plaything, and maybe even have moving experience with them."
The exhibition will explore multi-million dollar blockbusters, as well as small independent games.
It will also look at current debates surrounding gaming and the creative contributions made to game culture by the players themselves.
Mr Tessier-Lavigne said: "I feel incredibly lucky to be getting this sort of support from V&A Dundee to make something new with a close friend. If we can make something that even just one person can hold close to their heart, I'd be really happy.
"The new Videogames exhibition at V&A Dundee is really special to me because it looks at important issues in games and really respects the people behind all the work."