ScotRail commuters hit by train cancellations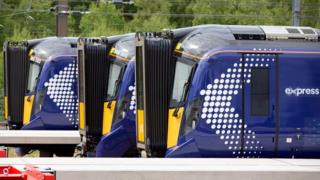 Rail travellers have faced another morning of disruption as more than 70 train services were cancelled.
ScotRail said a signalling fault at Perth affected 12 services to Aberdeen and Inverness from Glasgow and Edinburgh.
However, the majority of cancellations were on other routes, due to staffing or maintenance issues.
The latest delays follow a week of disruption linked to the introduction of a new "enhanced" timetable.
ScotRail apologised for the signalling problems, and said it acted swiftly to arrange for rail tickets to be valid for Stagecoach bus services.
Ongoing problems are understood to include maintenance issues and the late arrival of new trains which had a knock-on impact on staff training.
A ScotRail spokesperson said: "We're sorry to our customers who have experienced disruption - the vast majority of our services have run, and we're working hard to improve that.
"Anyone delayed by 30 minutes or more as a result of a cancellation is entitled to compensation through our Delay Repay Guarantee. Just keep hold of your ticket and claim on our website or mobile app."
The recent timetable changes, which included 100 new services, refurbished Intercity high speed trains and the introduction of brand new Hitachi class 385 electric trains, were meant to deliver the "best railway Scotland has ever had".
But the early days of the new timetable have been marred by staff shortages, with many workers not ready for implementation of the new services.
Many trains have been cancelled as a result, and carriages have been cut on some existing services, resulting in overcrowding.
The RMT union said the underlying was that ScotRail did not have enough staff - and was relying on its members working overtime.
Scotland organiser Mick Hogg told BBC Radio Scotland's Beattie programme: "The fact of the matter is that ScotRail do not have the resources to do the training and run Scotland's trains.
He added: "If staff refuse to work the overtime, the employer ScotRail has a problem.
"No-one can be forced to work their free time, their rest days. ScotRail is very much reliant on staff working the overtime."
Last week ScotRail released new figures showing that punctuality had improved, and was at its best since September.
The train service, run by Dutch firm Abellio, said 83.4% of trains met the rail industry performance standard of arriving less than five minutes behind schedule. The yearly average now stands at 87.3%.
However, these latest figures do not reflect the most recent cancellations.
Network Rail said only five full cancellations were the direct result of Monday's signalling fault at Perth, and that it was fixed by 06:30.