Parking meters targeted by vandals in Brechin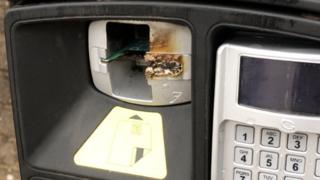 Police have appealed for information after parking meters were vandalised in Brechin.
Meters in City Road, Maisondieu Lane, Church Street and Market Street were were targeted between 26 November and 2 December.
The parking meters' keypads and card slots were damaged by fire during the incidents.
Officers said the repairs for each parking meter would cost "thousands of pounds".
Off-street parking charges were reintroduced by Angus Council last month.
More than 2,000 people have signed a petition objecting to the move.
Councillor Mark Salmond said: "There is never any valid excuse for wanton vandalism of this type.
"Ultimately, it is the taxpayer that has to pick up the cost to repair these machines, which in turn means less money for other vital services."