Killer discharged himself from psychiatric hospital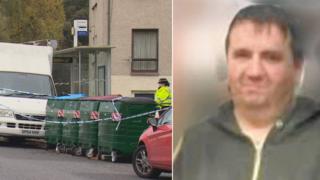 An investigation has been launched after a patient killed his best friend two days after walking out of a psychiatric hospital.
David Reid stabbed Mark Johnston more than 120 times at a flat in Broughty Ferry, Dundee, believing the devil told him to kill his victim.
Reid had discharged himself from the Royal Cornhill Hospital in Aberdeen.
He was acquitted of murder last week and is now detained in the State Hospital at Carstairs.
Prosecutors accepted that Reid, 46, was "not criminally responsible for his actions by reason of mental disorder".
The High Court in Livingston was told he had answered the door to police covered in blood.
He told officers: "I feel terrible. The devil told me I had two hours to stab him.
"I got a knife from the kitchen and sat there.
"He was my only friend. I can't believe what I've done. I stabbed him. What will his family think?"
The court was told that Reid told a psychiatric nurse in Dundee that he was receiving "messages from God."
A decision was taken to admit Reid to hospital and two NHS Tayside staff escorted him in a taxi to Aberdeen because no psychiatric beds were available locally.
Reid discharged himself shortly after admission.
'Sufficiently ill'
Judge Lady Rae said: "I don't prejudge things, but a man who is sufficiently ill to be accompanied by two members of staff to a psychiatric hospital clearly has a history.
"He's allowed to leave and two days later this occurs. I'd have thought it should be investigated."
Advocate depute Graeme Jessop said: "The Scottish Fatalities Investigation Unit will in due course receive a report from the NHS trust in relation to the decision made.
"My understanding of the position at present is that it is considered unlikely that there are criticisms about the actions taken."
An NHS Grampian spokeswoman said: "We cannot comment on individual patients.
"However, we can confirm that adverse event reviews were carried out in this case.
"Speaking generally, we cannot force patients to remain in hospital unless they are subject to a detention order."