Forensic scientist Sue Black wins book award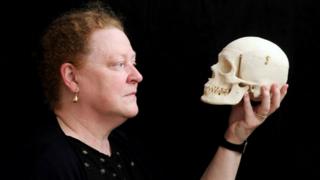 Forensic scientist Prof Dame Sue Black has been presented with the Saltire Book of the Year award at a ceremony in Edinburgh.
She won the non-fiction award and the overall prize for her book All That Remains: A Life in Death.
Judges said the work, reflecting her three decades in forensic science, was "curiously uplifting and life affirming".
Prof Black said she was "truly delighted" to have won.
She added: "To have done so in such illustrious literary company is a very special honour. Over the past thirty years and more, I feel very lucky to have been able to work in a job that I absolutely love.
"Working with teams who are second to none in their field of expertise has made that experience uniquely rewarding.
"In writing this book, my goal was always to create a record of that experience but also to reflect on the important and positive lessons I have learned about life through the study of death in its many different forms."
Professional move
Much of Prof Black's career has been at the Centre for Anatomy and Human Identification (CAHID) and the Leverhulme Research Centre for Forensic Science, both at the University of Dundee.
The Inverness-born scientist has just moved to a new post at Lancaster University.
Speaking about her book she said she was aware of the importance of recording things which mattered to her.
"My father was a great storyteller and when he developed Alzheimer's, it robbed all of us of his stories.
"I felt that I never had them for me or my children to hear again or for his great grandchildren to hear. That for me was always a great sadness.
"It's about being able to say to your children, your grandchildren, or your great grandchildren who aren't even twinkles in anybody's eye yet - this is who she was, this is what she did, and here it is in her own words."