'Productive' meeting on Michelin Dundee future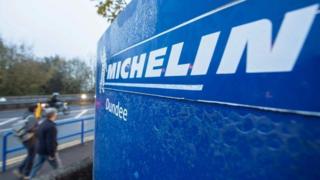 A "productive" meeting on the future of Dundee's Michelin factory has been held between the firm and Economy Secretary Derek Mackay.
Michelin announced plans this month to close the site, with the loss of all 845 jobs, by mid-2020.
Mr Mackay met senior executives from the company in Edinburgh last Friday.
He outlined two propositions for the future of the factory produced by the Michelin Dundee Action Group, which is tasked with saving the site.
Mr Mackay said: "I had a productive meeting with Michelin senior executives on Friday where we presented propositions relating to the future of the Michelin site and its workforce in Dundee.
"On Friday, I will convene the third meeting of the Michelin Dundee Action Group and update them on the company's response and the next steps."
Dundee City Council leader John Alexander also attended the meeting.
He tweeted: "I look forward to developing our ideas and discussing with the wider action group."