Boxer's health showed 'red flags' at Dundee A&E visit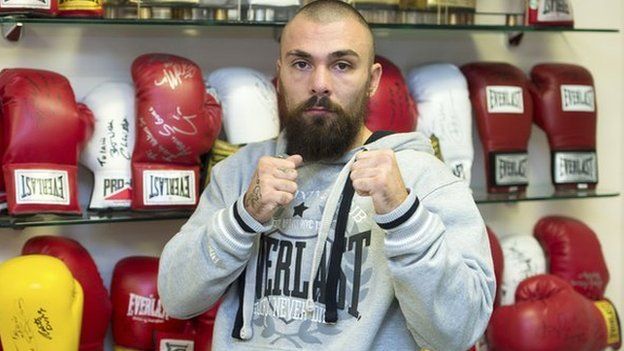 A consultant's decision not to carry out a CT scan on a boxer who later died after a fight was "reasonable" but there were "red flags", an inquiry has heard.
Mike Towell went to A&E at Ninewells Hospital in Dundee on 11 September 2016 after complaining of headaches while sparring.
He was given a neurological examination and discharged with painkillers.
Mr Towell, 25, collapsed in the ring after losing a bout 18 days later.
A fatal accident inquiry has been told a doctor who saw him at Ninewells did not think "there was any criteria for an emergency CT scan".
The boxer's initial notes detailed he had been suffering headaches for three weeks.
However, Dr Elizabeth Skelly said he "looked well" when he asked for a CT scan on 11 September.
Another consultant, Dr Martin McKechnie, told the inquiry at Glasgow Sheriff Court that the decision was reasonable, but that "there were red flags".
He confirmed that he would have ordered an emergency scan if he had examined Mr Towell "to exclude a bleeding or a bruising injury.".
Dr McKechnie, a consultant in emergency medicine for NHS Lothian, said he asked 15 other consultants what they would have done.
Thirteen doctors said they would have carried out a scan and two said they would not have.
When asked by procurator fiscal depute Eileen Beadsworth what those "red flags" were, he said Mr Towell seemed to have described "a new and different headache" while sparring.
Dr McKechnie added: "Normally he was able to spar for 10 or more rounds, he stopped that day in round three because of the severity of the headache.
"The other feature was the nature of his profession. My thoughts were, why did this man stop sparring that day?"
The consultant said he felt Mr Towell wanted to be seen at hospital.
Mr Towell, from Dundee, collapsed in the ring in Glasgow after losing a bout to Welshman Dale Evans on 29 September 2016.
He died 24 hours later after suffering a bleed in the brain.
Dr McKechnie said the consultant who made the decision not to scan the boxer, Dr Elizabeth Skelly, followed the guidance although he said "not every clinical situation will be picked up by the guidance alone".
He said the treatment plan and outcome from Dr Skelly was reasonable.
The inquiry before Sheriff Principal Craig Turnbull continues.