Boxer Mike Towell told doctor he was 'feeling great' before fatal fight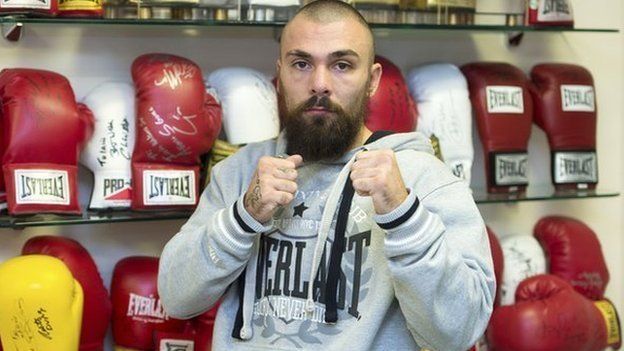 A boxer who died after a fight told a doctor he was "feeling great" in the weeks before his death, a fatal accident inquiry has heard.
Mike Towell was initially examined by Dr Scott Henderson after complaining of stomach and neck pain.
Dr Henderson told the fighter to make an appointment with his GP as the problem could be caused by gallstones.
He spoke to Mr Towell a week later, with the welterweight telling him he was "ready to box".
However, Mr Towell did not tell Dr Henderson he had visited A&E as well as seeing his own doctor.
The 25-year-old Dundee fighter collapsed in the ring in Glasgow, after losing a bout to Welshman Dale Evans on 29 September 2016.
He died 24 hours later after suffering a bleed in the brain.
Dr Henderson, who is on the list of doctors approved by the British Boxing Board of Control (BBBC), saw Mr Towell around 6 September 2016.
He said the boxer was "actively training" and had told him he only had one episode of pain in his stomach and the pain in his neck was mild.
Dr Henderson told the inquiry at Glasgow Sheriff Court: "Mike described a few weeks prior to us meeting he experienced, while he was exercising, some sharp localised right upper quadrant pain between his abdomen and chest wall."
The doctor said Mr Towell likened it to a stitch and said he had to go down on one knee because the pain was uncomfortable, but that it had not happened since.
Dr Henderson said Mr Towell asked: "You're not going to contact the board about this?" and he told him he did not think he needed to at that stage.
He said he phoned Mr Towell "about a week later", adding: "Mike advised he attended his GP and had bloods and an ultrasound."
He said he suspected there was no ultrasound because it would be too quick.
Asked what the boxer said to him, Dr Henderson replied: "He told me he had no ongoing symptoms, the abdominal pain hadn't returned.
"He was feeling great and ready to box."
Dr Henderson said Mr Towell did not tell him about about intermittent headaches in the period before that or going to A&E at Ninewells hospital on 11 September.
The inquiry before Sheriff Principal Craig Turnbull continues.