Brain scan 'could have saved' boxer Mike Towell's life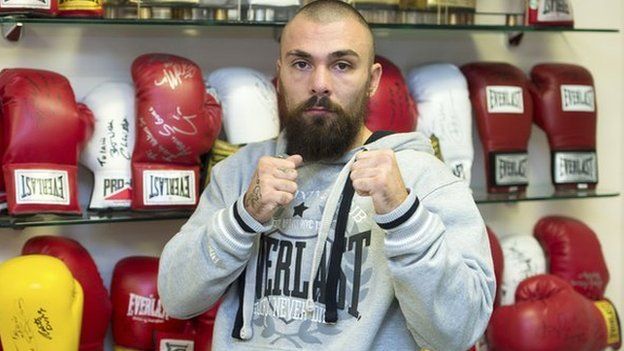 The mother of Mike Towell has told an inquiry his life could have been saved if he had been given a brain scan in the weeks before his death.
The boxer went to Ninewells Hospital in Dundee complaining of severe head pains a fortnight before he collapsed in the ring in September 2016.
Also giving evidence, Mike's girlfriend told a fatal accident inquiry that he was treated for a migraine on that occasion.
She said he suffered a seizure in May.
The 25-year-old fighter from Dundee collapsed in the ring in Glasgow, after losing a bout in the fifth round to Welshman Dale Evans on 29 September 2016.
He died 24 hours later after suffering a bleed in the brain.
A fatal accident inquiry, being held in Glasgow, heard that on 11 September Mike was "in agony" at Ninewells Hospital's A&E unit, complaining of severe head pains that began while he was sparring at a gym.
Mike's mother Tracey Towell, 53, told counsel Emma Toner that her son would not have fought if a brain scan had revealed something was wrong.
Mrs Towell said: "He loved his son very much, he would never have taken a chance like that."
Ms Toner asked how likely it was that he would have stopped boxing, in light of evidence that he had previously ignored medical advice.
Mrs Towell replied: "Yes, if they had said there's something going on there in your brain, he was a coward that way.
"He was a tough lad, and a boxer but he was also a coward that if he thought there was something going on in his head he wouldn't have boxed."
During cross-examination, counsel for NHS Tayside, Mark Fitzpatrick, put it to Mrs Towell that she did not know what criteria doctors apply to decide if someone needs a scan.
She agreed but said: "We do know he had a bleed to the brain afterwards".
She was asked if she or her son were able to judge how important a scan was in deciding whether or not to box.
She said: "I felt it was important, he should have got a scan and it may well have saved his life and it would have stopped him boxing, yes."
Mike Towell's partner Chloe Ross told the inquiry that she witnessed him having a seizure in May 2016, four months before he died.
The 26-year-old said her boyfriend woke up during the night "vibrating" and bit his tongue during the episode.
She was asked if she knew what was happening and said: "I assumed it was a seizure, but I have never seen one before."
Miss Ross - mother to Mike's son Rocco - told the inquiry how she phoned an ambulance when he didn't respond to her shouts.
He was taken to hospital on that occasion.
The inquiry then heard about a sparring session in Edinburgh at the end of July 2016, when Mike wasn't happy after going up against three separate fighters who did three rounds each, but he did eight.
Miss Ross said: "I would say he started getting sore heads from then. I didn't realise it then, but looking back it would be about from then."
She said he took paracetamol for the headaches, but she found she was buying a lot, and told him it was "not normal" to take painkillers every day.
Chloe than recalled that after Mike went to hospital in September 2016 with severe head pain, that he was given co-codamol and was told it was a migraine.
She said he was sick during the night after he returned home, and when she looked up his symptoms on the internet, they matched that of migraines.
Miss Ross said that the week of his fight, Mike told her he felt great and was "actually hitting himself".