Gleneagles chef Andrew Fairlie stands down after cancer diagnosis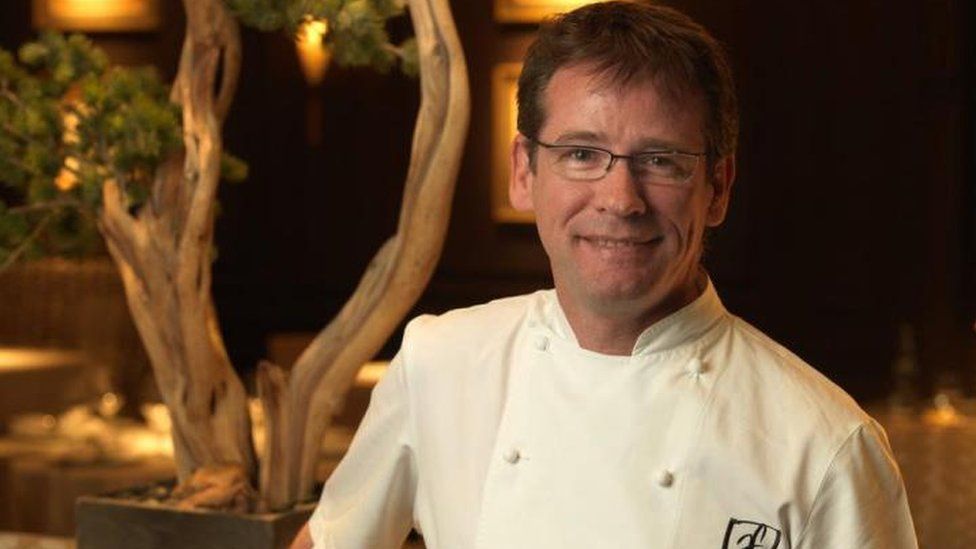 Renowned Scottish chef Andrew Fairlie is stepping down from his Gleneagles restaurant after revealing he has a terminal brain tumour.
The 54-year-old, whose restaurant is the only one in Scotland to have two Michelin stars, was first diagnosed in 2005.
He has decided to retire after being told by doctors that no further treatment will help him.
Mr Fairlie will hand over to his head chef and business partner in February.
He told The Times newspaper that saying goodbye to colleagues before "giving up my restaurant kitchen was the hardest part".
He added: "The fact that I'll never be back, never have that buzz and atmosphere of the kitchen again, was very emotional. But it's dangerous for me to be there. I'd just be a liability."
Mr Fairlie was told by doctors at the Beatson cancer centre in Glasgow in June that no further treatment was available.
He said: "It's getting harder to cope, but I feel very peaceful."
Thank you @NicolaSturgeon I really appreciate your best wishes and taking time out for the message there's too much red wine to sample to go just yet 🍷🍷🍷🍷🍷

— andrew fairlie (@AndrewFairlie1) November 6, 2018
The chef has received messages of support since revealing the extent of his condition.
Scotland's first minister Nicola Sturgeon tweeted: "Sending my thoughts and best wishes to @AndrewFairlie1 and his family - such a great talent and wonderful ambassador for our country."
Sharan Pasricha, founder and chief executive of Ennismore which owns Gleneagles, said: "We're immensely proud of all of Andrew's achievements including being Scotland's only two Michelin star restaurant for the past 12 years.
"And we are delighted to continue the legacy of such an important and cherished culinary icon through the renewal of our long-term partnership with the restaurant."