Boxer Mike Towell 'begged for head scan' weeks before his death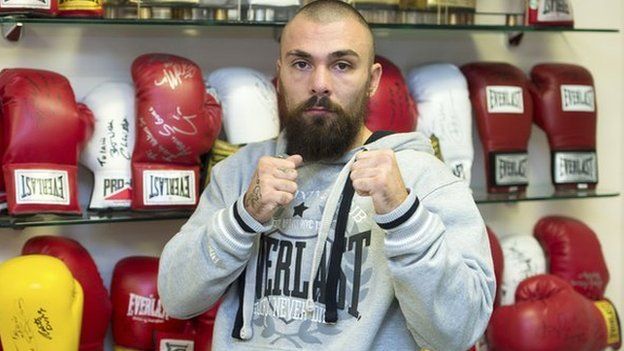 A Dundee boxer who died after a fight "begged" for a head scan while in "agony" after a sparring session weeks before the bout, an inquiry has heard.
The inquiry was also told that he was advised not to box three years earlier following suspected seizures.
His mother Tracey Towell told the inquiry her son took up the sport as a child and "lived for boxing."
The 25-year-old, known as "Iron Mike" Towell, was diagnosed with severe bleeding and swelling to his brain following the 2016 fight in Glasgow.
He was given medical treatment in the ring before being taken to hospital but died 24 hours later.
Mrs Towell said that weeks earlier her son had to stop during a training session at his gym in Stirling and was taken to accident and emergency at Dundee's Ninewells Hospital.
She said: "He went away sparring and he was only able to do three rounds, he had to come out of the ring, he couldn't do any more.
"He just said he was in absolute agony, he was in bits."
Mrs Towell said her son told the nurse that he wanted a scan as "there's something really going wrong".
She said that he would need to be referred by his doctor to get a scan, and added: "He was begging them."
The court was told that a doctor in the hospital that evening said it was a migraine and pressure because of his upcoming big fight.
Mrs Towell also told the fatal accident inquiry at Glasgow Sheriff Court that she first contacted doctors in May 2013 after twice finding her son had fallen out of bed and was confused.
She said: "I thought he'd had a turn.
"He trained really hard and was on a strict diet. This seemed to happen after fights."
Mrs Towell told fiscal depute Eileen Beadsworth that her son "trained very hard" but would go out with friends after his "big fights".
She said: "I was aware he took cocaine and would binge drink after his fight, then he would go back to training again and never drank again for months and months at a time."
Mrs Towell said her son maintained there was nothing wrong with him but medical records showed he was taken to hospital by his partner after another suspected seizure in September 2013.
He was told not to drive or work at height and "strongly advised" not to box but he told doctors he would continue to do so.
The fatal accident inquiry continues.