Scottish heroines unveiled at National Wallace Monument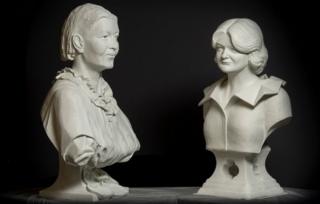 Two busts of Scottish heroines have been unveiled at the National Wallace Monument.
Maggie Keswick Jencks and Mary Slessor will be the first women commemorated in the Hall of Heroes at the monument in Stirling.
The Maggie's Centres co-founder and the Dundonian missionary were chosen by a public vote, which originally intended to only pick one winner.
The two were chosen from a shortlist of 14 inspirational Scottish women.
The Scotland's Heroines project aims to recognise the achievements of Scottish women and their contributions to the country's history.
Launched in 2017, the campaign asked the public to vote on which remarkable Scottish women should be introduced to the Hall of Heroes.
The thousands of votes cast online across the world resulted Mary Slessor and Maggie Keswick Jencks being selected to join the gallery alongside the existing sixteen busts of famous men from Scotland's history.
They join the likes of Robert Burns, James Watt, Adam Smith and Sir Walter Scott, among others.
The two busts have been funded by Stirling District Tourism, the charity responsible for The National Wallace Monument, and have been created in the Edinburgh studio of Graciela Ainsworth Sculpture Conservation.
Having researched the lives of both Maggie and Mary, sculptors Graciela Ainsworth and Csilla Karsay looked to create busts that depicted their character, passion and commitment.
Speaking about her involvement, Graciela Ainsworth said: "It was an honour to be a part of such an important project.
"We really wanted to capture their essence as well as their image, so we worked closely with their relatives and with experts to ensure that the busts were true to these amazing women."
Zillah Jamieson, who chairs Stirling District Tourism added: "We are so pleased to be able to recognise the first women of the Scotland's Heroines project, and to see these busts unveiled.
"Both women exhibited selflessness and personal commitment to social improvement, and through their efforts to help others they achieved worldwide recognition."
Mary Slessor (1848-1915)
Described as the most celebrated Scottish missionary since David Livingstone, Mary dedicated her work to the people of Calabar, Nigeria.
She originally worked in a mill in Dundee, and began reading the works of Dr Livingstone which inspired her to send an application to the Foreign Mission Board.
She boarded the SS Ethiopia in Liverpool on 5 August 1876 and arrived in Duke Town, Calabar, five weeks later. She then began her mission teaching children and working in a dispensary.
One of the most harrowing customs that Mary encountered in Nigeria was in relation to the birth of twins.
It was considered that when twins were born, one child was the devil. Not knowing which child this was, both infants were killed.
The rescuing, protection and raising of surviving and abandoned twins and their mothers became one of Mary's key roles in her work in Africa as well as working to change certain culture and beliefs.
Douglas Binnie, from the Mary Slessor Foundation, said: "The trustees of the Mary Slessor Foundation very much welcome the opportunity to be involved with the unveiling of this sculpted bust.
"Mary Slessor was a humanitarian who staunchly defended the rights of children and women in incredibly difficult circumstances.
"She demonstrated a rare ability to combine steely resolve and uncompromising strength with deep compassion and remarkable selflessness.
"If Mary Slessor was alive today, she would have wondered what all the fuss was about."
Rev Ian Alexander, secretary of the World Mission Council of the Church of Scotland, said: "We are thrilled and delighted that Mary Slessor has been chosen as one of the first women to be immortalised in the Hall of Heroes.
"She is an iconic figure in Scotland and her pioneering work in Calabar, Nigeria, remains an inspiration to this day."
Maggie Keswick Jencks (1941-1995)
Maggie, a writer, gardener and designer from Dumfries, together with her husband Charles, founded the Maggie's Centres, which offer practical, emotional and social support to people with cancer.
They believed that people needed more information to allow them to be an informed patient, and live more positively with the disease.
After struggling with her own experiences, she knew that a beautiful space was needed to help cope with the most devastating of news.
She designed the blueprint for the centres, the first of which opened in Edinburgh in 1996, while she herself was facing cancer.
Maggie was determined that people should not "lose the joy of living in the fear of dying" and the day before she died in June 1995, she sat in her garden, face to the sun and said: "Aren't we lucky?"
Emphasising just how much the services they provide are appreciated, and how much their founder is admired, one comment read: "Maggie's Centre has been so vital to our family, an inspirational lady who made so many people's lives a little easier at a terrible time."
Maggie's Centres chief executive Laura Lee said: "It is quite incredible to think that Maggie has been chosen.
"Maggie deserves to be honoured for her vision of a different type of cancer care, but I think she would be surprised to find herself in such illustrious company."
The busts of the two women will take their place in the Hall of Heroes at the National Wallace Monument in Stirling in the Spring of 2019 ahead of the monument's 150th anniversary since its opening.