Family awarded £100,000 compensation after tanker crash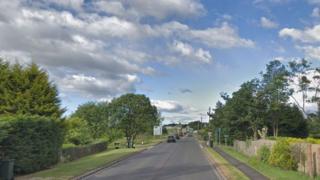 A family from Perth and Kinross has been awarded £100,000 compensation following a fatal crash near their home six years ago.
A supermarket delivery van and a fuel tanker collided on a road in Drum, in January 2012.
The lorry ended up in their garden, spilling thousands of gallons of aviation fuel.
At the Court of Session, judge Lord Woolman said the crash had had a lasting impact on the family's lives.
Morag McKenzie, her daughter, and granddaughter sued DHL Services and Asda, which were the firms who had employed the drivers.
The court heard how the family was unable to stay at the property for two years following the incident in January 2012.
The judge ruled that van driver Tristan McKenzie was negligent and was 75% to blame, and that tanker driver Alan Robertson - who died in the crash - was 25% to blame.
Wrong turn
Mr McKenzie, 30, was working for Asda and making a delivery in the area when he turned into the wrong street.
He drove back onto the A977, and then started to make a right turn to the intended destination, but the tanker had already started to overtake.
The front left wheel arch of the tanker struck "a glancing blow" off the van and veered down an embankment into the garden.
Lord Woolman said: "Tragically, Mr Robertson sustained serious injuries in the cab from which he died. The trailer rolled over and thousands of gallons of aviation fuel spilled into the garden, but did not ignite."
The judge said that Mr McKenzie owed a duty to take reasonable care to ensure that he did not come onto the A977, or turn off it, before he checked that it was safe.
Mr McKenzie had told the court that he looked in his wing mirror and saw the tanker positioned a comfortable distance behind him and then signalled, braked, and started the right turn towards his destination.
'Reasonably foreseen'
But Lord Woolman said: "I reject his evidence that he checked his wing mirror, and that the tanker was fully established in the lane reasonably far behind him. That simply does not square with the other evidence.
"Further, Mr McKenzie only checked his mirror once. As he himself accepted, a second check of the mirror, or a swift glance over his shoulder before making the turn, would have alerted him to the position of the tanker.
"In the whole circumstances of the case, that would have been the reasonable thing to do."
Lord Woolman continued: "I hold that Mr Robertson could have reasonably foreseen that if he drove the tanker negligently, it could cause harm to other road users and neighbouring proprietors."
He said that Mr Robertson, from Cumbernauld, materially contributed toward the collision by embarking on the overtaking manoeuvre, which was "a potentially hazardous enterprise".