Teenagers rock attack on stranger 'inspired by drill music'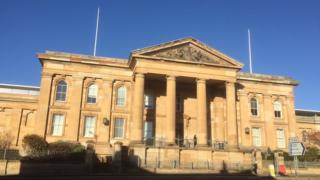 Two Dundee teenagers attacked and robbed a stranger after being inspired by violent drill music, a court has heard.
The boys, who were aged 15 and 16, followed Mark Coats and hit him on the back of the head with a rock as he walked home from a supermarket.
Drill has been linked by the UK's most senior police officer to violence in London.
The teenagers, who cannot be named, will be sentenced in November.
The boys, now aged 16 and 17, faced a single charge of robbery committed last November.
The 16-year-old admitted the charge at a pre-trial hearing while the 17-year-old was found unanimously guilty by a jury.
'Violent rap music'
Dundee Sheriff Court heard that one of the boys told police that the drill songs they had been listening to were the "inspiration" for the crime.
Mr Coats told the court that he had been left with long-term mental health issues as a result of the attack.
He said he could no longer be in social situations where people stand behind him and avoided the area where he had been assaulted.
Depute fiscal Eilidh Robertson told the court: "Police became involved with the younger accused after he was identified following a press release by police.
"He initially gave a no comment interview but in a later statement said he needed money for cannabis.
"The inspiration to commit the crime had come from listening to violent rap music."
Sheriff Alastair Brown deferred sentence for reports and released both boys on bail.
He said: "Had they been over the age of 21 I'd have been revoking bail and remanding them in custody and looking at a sentence running to a number of years."