Health secretary given assurances over NHS Tayside whistleblowing concerns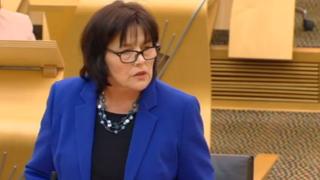 Scotland's health secretary says she has been assured by NHS Tayside's chairman that concerns over whistleblowing are being addressed.
It follows the resignation of the health board's whistleblowing champion, Munwar Hussain.
In a letter to Health Secretary Jeane Freeman, he described systematic bullying of trainee doctors as "an ongoing issue that is tolerated".
Ms Freeman said she had "immediately followed up on" Mr Hussain's concerns.
Mr Hussain also claimed that concerns he raised about dosages being given to patients were not followed up by the board.
In a statement to the Scottish Parliament, Ms Freeman said she had been assured that the matters raised by Mr Hussain were being properly dealt with.
A new chairman and chief executive were appointed in April to run NHS Tayside after the health board was put in "special measures" by the government.
Mr Hussain said in the letter that he had also raised concerns with the board over claims of inappropriate dosage of patients, but had not had a response.
He told the BBC: "I sent a letter to the minister, copied in to the First Minister who appointed me back in 2012, raising eight separate issues that I feel were serious, and they were in the public interest. I did not receive a response.
"The only person who contacted me after that was the chairman of NHS Tayside.
"After consultation with my wife, family and friends, I decided I had to resign.
"The whole think about raising this was that I need to go home at night and look my daughters in the eye, and know I am doing the right thing.
"When you think that nothing is changing, and it's politics then you have to do something."
'Understand concerns'
Lib Dem MSP Alex Cole-Hamilton asked Ms Freeman: "On a failing of whistle blowing systems this serious, can we really expect the board to mark its own homework on this?"
She replied: "I understand members concerns about this and I share it, but I do think we have to be very careful here of the language that we use."
Ms Freeman said that NHS Tayside had asked the Royal College of Physicians in London "to commission them to undertake a review in terms of dosage matters."
She said that the General Medical Council would be involved in terms of the allegations regarding the trainee doctors.
Ms Freeman said: "I refute the notion that this board, indeed any other board, on matters as serious as this is marking its own homework.
"That is absolutely not the case."
Mr Hussain said he hopes improvements can be made by his successor, for the good of the staff.
He said: "NHS Tayside is not a bad performing health board. The people are really good people. But the issues here are not being dealt with.
"I just wasn't comfortable, I wasn't confident. I think that I have done the right thing by raising issues that I feel are in the public interest.
"As long as they can demonstrate action has been taken. The staff need to feel confident and comfortable raising these issues."
NHS Tayside said that former radiographer Trudy McLeay will be its new non-executive whistleblowing champion.