Patients ask police to investigate Ninewells brain surgeon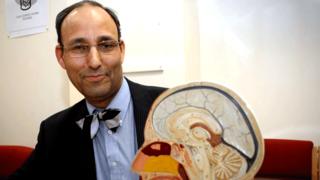 Two patients, who believe they were harmed by a surgeon during neurosurgery, have asked Police Scotland to investigate.
Jules Rose and Patrick Kelly claim Prof Sam Eljamel acted criminally during operations carried out at Ninewells Hospital in Dundee.
The pair have given medical papers and a CD of a BBC Disclosure investigation into the surgeon to police.
Mr Eljamel was suspended by NHS Tayside in December 2013 and later retired.
The patients also want to see NHS Tayside investigated under health and safety legislation.
The health board insists that patient safety is "front and centre" of every procedure it carries out.
In Ms Rose's case, the wrong part of her body was removed instead of the brain tumour sitting behind her eye.
Many years after Mr Kelly's spinal operation he found out that Mr Eljamel, who was head of the neurosurgery department at Ninewells, had not actually carried out the procedure.
He told the BBC he was in constant pain and faced the risk of paralysis.
Ms Rose and Mr Kelly took their concerns to Police Scotland on Wednesday morning, just over a week after the broadcast of BBC Scotland's Disclosure programme which revealed fresh evidence that patients were harmed by Mr Eljamel.
The documentary highlighted an unpublished report by the Royal College of Surgeons into Prof Eljamel's work.
It revealed Prof Eljamel operated on the wrong part of the spine of some patients.
It stated his approach had been to "correct errors 'personally' and [he] admitted that there had been occasions in the past when he had been less than entirely open with his Neurological colleagues".
The Royal College review team also found evidence he rushed through some surgeries and were told he allowed trainee surgeons to operate "without supervision".
Mr Kelly said: "We are going to Police Scotland in the hope we can get this surgeon charged with culpable and reckless behaviour. He had a duty of care to his patients.
"We are also asking the police to investigate NHS Tayside under health and safety legislation.
"We were shocked at the evidence which was produced in the documentary, in the Royal College of Surgeons report, and I was flabbergasted that NHS Tayside knew about this 25 years ago."
'Phantom operation'
In the BBC programme - "Harmed By My Surgeon" - the medical notes and scans of patients were examined by independent neurosurgeon Donald Campbell.
He found that a scan taken of Mr Kelly's spine before his operation was identical to the MRI image taken after the procedure, indicating the operation was not performed.
Following surgery, Mr Kelly said he almost died after his wound opened.
He was left with a 14-inch scar from what he described as a "phantom operation" and takes medication daily to cope with the pain.
Ms Rose had her tear gland removed instead of a brain tumour.
She said the surgeon tried to cover up the mistake by telling her the tumour was removed, when he knew he had taken out the wrong part of her body.
She has now discovered at the time of the operation Prof Eljamel had been placed under "clinical supervision" by the health board.
Ms Rose said: "I am just sorry I have been put in this position by NHS Tayside and Professor Eljamel.
"For years I have been angry at Professor Eljamel, now I want an investigation into NHS Tayside. I just hope they are able to locate Prof Eljamel and he can come back to face up to the reality of the pain he caused me."
The patients also called for an independent inquiry to be launched by the Scottish government into brain and spinal surgery at NHS Tayside.
The Disclosure programme interviewed former Crown Office prosecutor Brian McConnachie QC, who said he believed there was an "arguable" case for both Prof Eljamel and NHS Tayside to face criminal action.
Since its broadcast, further patients have come forward to the BBC alleging they were harmed during surgery by Prof Eljamel.
NHS Tayside Medical Director, Prof Andrew Russell, told the BBC: "We have heard from a number of patients from 2012 to 2016 who have had concerns and we have ensured we have listened to their complaints and taken appropriate action to support patients as per our duty of care.
"There has been much learning by the organisation immediately following these events and many improvements have been made over the past five years.
"I would like to reassure our patients that NHS Tayside complies with all national standards relating to spinal surgery, with patient safety front and centre of every procedure carried out."
"NHS Tayside undertook a review of spinal cases performed by Professor Eljamel from 2010 to 2013 as recommended by the RCS. Any patient of concern was seen again by a consultant neurosurgeon."
If you want to speak to BBC Scotland Disclosure about this investigation, or another story, email programme producer liam.mcdougall@bbc.co.uk or reporter lucy.adams03@bbc.co.uk. You can also follow and get in contact with the team on Twitter @BBCDislosure. And remember, you can watch the Disclosure programme on demand on BBC iPlayer.